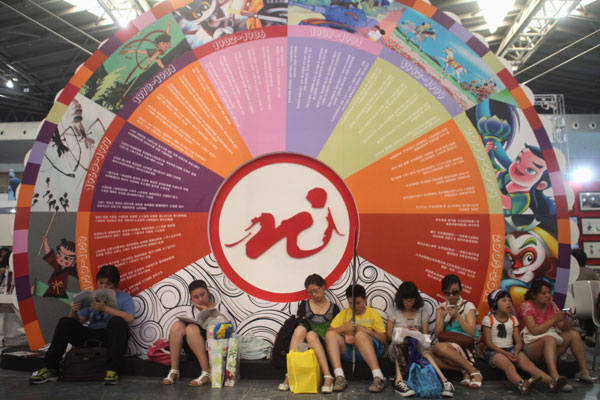 The logo and film titles of Shanghai Animation Film Studio, a company under the Shanghai Film Group, are shown at an international cartoon and game expo. The group released has its preliminary prospectus, indicating its aim to become the first listed State-owned film firm. Provided to China Daily
The preliminary prospectus for the State-owned Shanghai Film Group Co Ltd has been released on the website of the China Securities Regulatory Commission, indicating that it is poised to beat the China Film Co Ltd to become the nation's first listed State-owned movie company.
It plans to issue 93.5 million shares, accounting for 25.03 percent of its general capital, according to the prospectus. The proceeds will be used to invest in new movie theaters and to modernize older facilities.
Shanghai Film Group holds 95.52 percent of its own shares, while State-owned Shanghai JinWin Investment Co Ltd holds the rest.
Shanghai Film Group is being spun out of Shanghai Media & Entertainment Group, a State-owned cultural entity, which completed its transformation from an ad
mini
strative institution to a corporation earlier this month.
Shanghai Film Group stated in its prospectus that its main businesses are film distribution and exhibition, including film copyright sales and theater operations.
In 2013, exhibition revenues accounted for about 80 percent of the company's main business.
Industry analysts said that in terms of competitiveness, Shanghai Film Group is inferior to certain listed private film companies such as Huayi Brothers Media Corp in content production, and this might be why it's listing its downstream resources - the theaters and distribution business.
But even at the downstream end, the company faces fierce competition from domestic rivals such as Dalian Wanda Group Corp Ltd.
Shanghai Film Group plans to have 62 wholly owned cinemas and 433 screens after the IPO, according to its prospectus.
As of Dec 31, 2013, Wanda Group owned 142 five-star cineplexes with 1,247 screens around the nation, accounting for 15 percent of the market.