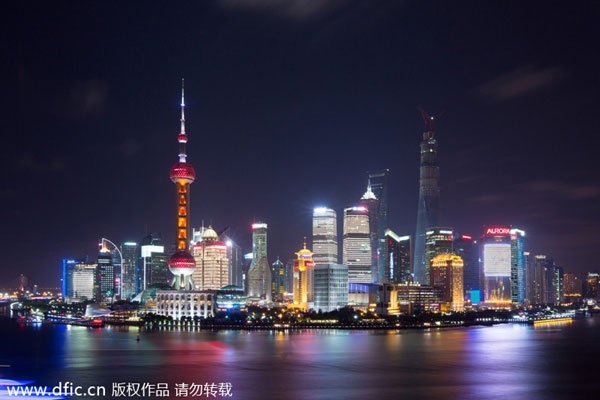 Night view of Huangpu River and the Lujiazui Financial District with the Oriental Pearl TV Tower, the Shanghai World Financial Center, the Shanghai Tower under construction and other skyscrapers and high-rise buildings in Pudong, Shanghai, China, Oct 4, 2013.[Photo/dfic.cn]
A Boston native cooks up a success story and sets example for small firms' China operations, He Wei reports from Shanghai
Shanghai has captivated Scott Minoie's imagination for as long as he can remember.
It may have happened in Chinese history lessons at college. Or kung fu movies. Or the success of earlier foreign investors.
It propelled the Bostonian to settle in Shanghai after a city tour fascinated him. He took a position teaching English at a local university, something common for young expats, even if he had worked as a chef in five-star hotels back in the United States.
As more foreign executives relocated to Shanghai, Minoie saw a need among expats for a healthy homemade working lunch.
He bought ingredients from a Carrefour supermarket and prepared lunch for 80 people. Then he prepared to run his own business.
"You have to stay conscious of the local taste here, and be careful not to be too 'localized', otherwise you will fail," said Minoie, whose chain has grown to 21 in China's business hubs.
The majority of his clients. are now Chinese. He remains confident that, with concerns over food safety, they will appreciate a Western-style bistro allowing diners to see their strawberry smoothies and laffa-bread salads being made.
His success contrasts sharply with the experiences of a string of big Western restaurant chains that failed to secure brand recognition in a growing market of middle-class earners who have a craze for Western flavors.
The "new wave of capital migration" from the US is driven largely by small and medium-sized enterprises mostly in niche businesses.
US SMEs are relative newcomers, with almost one-third having been in China for five or fewer years, according to the annual survey published in February by the American Chamber of Commerce in Shanghai.
When looking at longer time frames, 36 percent of SMEs reported having been in the country for at least a decade. Sixty-four percent of larger companies said they had reached the 10-year point. A higher proportion of respondents - 37 percent - consider themselves SMEs compared with 26 percent a year ago.