Talent pool proves engine of success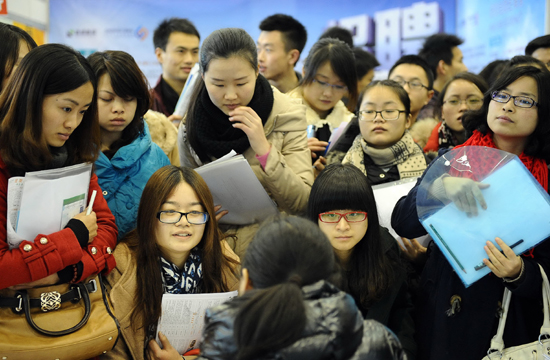 College graduates attend a job fair held at New International Convention & Exposition Center of Chengdu Century City in December. More than 800 companies and institutions provided more than 22,000 job opportunities at the fair. [Photo/Xinhua]
50 universities, colleges provide strong, reliable workforce for southwestern city
Ask Liu Jia which city he would choose if he had to re-launch his business, and his answer is unequivocal: "Chengdu, definitely Chengdu."
Liu is chief operating officer of Goodteam Studio, an APP development firm based in Chengdu, and he insists the southwest inland city is quite simply unequalled as a source of the kind of top talent he needs to remain competitive, not just in China, but globally.
Goodteam became top 10 on the Google Play store in terms of revenue in 2012, with more than 40 million downloads worldwide.
The young COO adds that even if one day he plans to open offices in other cities, its R&D team will still be based in Chengdu, because it harbors a pool of IT talent unavailable elsewhere.
As China's economy remains robust, cities across the country are thirsty for talent. Yet at the same time, they are being scorched by rising labor costs.
However, Chengdu's talent pool remains healthy, fed by more than 50 universities and colleges that provide around 150,000 graduates every year.
"Businesses here enjoy relatively low labor costs as well as low turnover rates," said Liu Jianing, head of the investment sales division of Chengdu Investment Promotion Commission.
He reckons that compared with coastal cities, labor costs and turnover rates in Chengdu are a quarter to a third lower.
"We have a comprehensive talent pool, from management to skilled workers," added Liu.
Chengdu's reputation for providing the very best talent has also grown outside of China.
ThoughtWorks, a global IT consultancy headquartered in Chicago, is a good example.
It has set up its software technology company in the city staffed by 50 recruits, 35 of whom are local IT graduates.
ThoughtWorks is well-known in the industry for intensive recruitment processes, with numerous rounds of interviews often spread over weeks.
"When we choose a city to start our business, the only thing we care about is whether there is enough talent," said Xiong Jie, ThoughtWorks' office director in Chengdu, who stresses that a lack of talent can be a real problem in the IT industry.
Xiong added that countries including Australia, the US and many in Europe are facing a lack of talented IT staff, but China is rich with potential stars in many cities including Chengdu.
According to the 2012 Chengdu Investment Guide, produced by Chengdu Information Office, there were 58,243 IT graduates in the city, meaning one in five graduates in the city is either a programmer or a software engineer.
"Companies like us are always in hot pursuit of programmers. That's why we come here," said Xiong, a 32-year-old from Chongqing, a municipality just an hour's train ride from Chengdu.
The city's 2012 investment guide claims that 233 of the Fortune 500 companies have a presence in Chengdu, including global giants such as Intel and IBM, which have set up research labs in cooperation with universities in Chengdu.
Companies have also built 180 training bases to better prepare their potential employees when they are still on campus, says the guide.
Besides holding onto its own local talent, the Chengdu government also goes to other big cities like Beijing and Shanghai to attract talented recruits for its IT industry, added Liu Jianing, head of Chengdu Investment Promotion Commission's investment sales division.
"Sichuan province used to be known as a great source of labor, but now we are seeing the opposite trend in some of our industries," said Liu.
"Low living costs, comfortable lifestyle and weather, low stress and large job opportunities are Chengdu's great advantages in attracting talents to come here to work."
The latest list of the 10 happiest Chinese cities, based on a survey conducted by Oriental Outlook magazine and the China Association of Mayors, released in December, had Chengdu and Hangzhou at the top of the list.
According to a human resource report released in 2011 by 51job, a Chinese online jobseeker website, the turnover rate of software engineers with three-year experience in Chengdu is 8 percent, in stark contrast with Beijing's 21 percent and Shenzhen's 20 percent.
While MyCOS's Fresh Graduates Employment Annual Report 2010 showed that Chengdu's retention rate of fresh graduates was 61 percent, against 28 percent for another major information technology and education hub, Wuhan.
"Low turnover rates are good for company development in the long run. Our workforce and the huge reserves of talent we have get high praise from employers," added Liu Jianing.
Qing Chuan is the manager of a drugs company, which produces sterile injection devices to American market, and he says Chengdu's dependable workforce is crucial for the business.
"Because of high living costs in big cities like Beijing and Shanghai, staff can move on quickly. The workforces there are not as stable as cities like Chengdu," he said.
Qing added that the talent pool is especially strong for engineers, a sector particularly targeted by universities in Chengdu.
Game APPs developer Liu Jia says he is proud of his Chengdu team, all of which are local to the city. As the city's APP developers continue to attract worldwide attention, Liu adds that he is getting regular enquiries from companies around the globe looking to send their staff to be trained by his company.
"Having a solid workforce means we can whole-heartedly devote ourselves to developing games.
"But in markets like Shanghai and Beijing, there are too many distractions and temptations."
Li Yu in Chengdu contributed to this story
dengzhangyu@chinadaily.com.cn