Outlet of Yum-owned chain lets its lease expire at capital's airport
Yum Brands Inc has closed one of its East Dawning restaurants in Beijing.
The lights were out in the East Dawning shop at Terminal 3 of Beijing Capital International Airport. Signs outside the shop indicated the business was closed.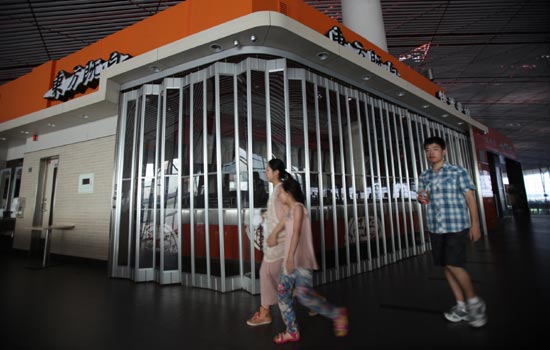 A closed-down East Dawning restaurant at the Beijing Capital International Airport on Aug 8, 2012. [Photo/China Daily] 
A source with Yum in Beijing who refused to provide her name said the restaurant shut down because the lease expired and wasn't renewed.
East Dawning, a chain owned by the Louisville, Kentucky-based Yum, is Yum China's first Chinese fast-food brand, which combines the KFC business model with Chinese cuisine. East Dawning's products incorporate regional tastes and different items for different meal times.
Menu choices include pork and preserved egg congee or Dongbo meat buns for breakfast; sweet and sour ribs and tomato noodles for lunch and dinner; and crispy wings and sesame balls for dessert.
The fast-food outlet was launched in Shanghai in 2005 after a yearlong trial. East Dawning has about 30 outlets in China, including one in Beijing, according to the company's website.
Despite the Beijing store shutter, the Yum source said that Yum China "will open more East Dawning restaurants in more Chinese cities this year".
"I think the reason that Yum Brands is interested in launching aggressively this new brand called East Dawning is for reasons both offensive and defensive in nature," said Warren Liu, a former vice-president of business development and one-time member of Tricon Greater China Executive Committee. Tricon was Yum's previous name.
"It wants to fend off potential local Chinese fast-food competitors."
Earlier this year, Yum and Chinese electronics and home appliance giant Suning Appliance Co Ltd formed a strategic alliance to cooperate to open new outlets and plan business centers.
According to the strategic alliance agreement, Yum will open 150 restaurants in Suning's electronics stores over the next five years. These will include brands such as KFC, Pizza Hut, Little Sheep and East Dawning.
"(Yum China) should reposition East Dawning, and move its market focus and resources to outside China; and KFC China is the indisputable star of Yum Brands' worldwide growth engine," Liu said.
Wang Hongtao, industry expert and press officer for the China Chain Store and Franchise Association, said that in China, Chinese fast food is still an experiment for Yum.
"Their business focus will continue to be Western-style fast food, such as KFC and Pizza Hut," Wang said.
liwoke@chinadaily.com.cn