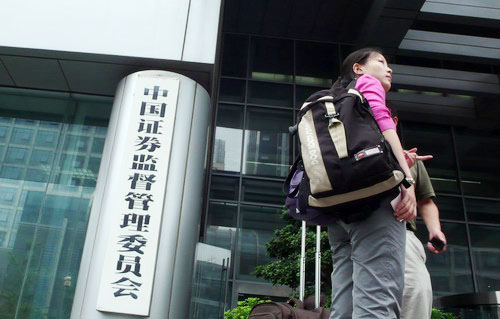 A woman outside the headquarters of the China Securities Regulatory Commission in Beijing. The top Chinese securities regulator told the industry to prepare for a "policy adjustment storm" on Monday. [Photo/China Daily]
Top regulator urges executives to speed up financial innovation
China's top securities regulator told the industry to prepare for a "policy adjustment storm" as he outlined a raft of reforms to develop the capital market and improve its efficiency to keep pace with the nation's economic restructuring.
"Now is the best time for the securities sector to accelerate financial innovation," Guo Shuqing, chairman of the China Securities Regulatory Commission, told 146 top executives from more than 100 securities companies and stock exchanges at a banquet in Beijing.
A similar event, held in 2008, laid down markers for capital market reforms over the subsequent four years
This time, the country's top securities regulator made 11 suggestions on the innovation of institutional market players and collected opinions to prepare for the upcoming "policy adjustment storm".
Guo's comments may signal that a period of deregulation is on the horizon, after China's securities companies last year suffered their most difficult year since 2006, amid a bear market in which the Shanghai Composite Index suffered its third-largest drop, falling of more than 21 percent to 2199.43, according to analysts.
By the end of last year, 109 securities companies in China had a total net income of 39.38 billion yuan ($6.24 billion), only about half of the previous year's figure, according to data from the Securities Association of China.
The next round of crisis for the industry may be sparked by deteriorating financial conditions and the shrinking business space of securities companies, CSRC Vice-Chairman Zhuang Xinyi said on Tuesday.
"We should move fast to strengthen the sense of crisis and accelerate innovation," said Zhuang, who pointed out that lack of product differentiation was one of the obstacles to the expansion of China's securities industry.
The CSRC chief's blueprint encouraged institutional market players to create new financial products based on customer demand, while expanding the range of companies' self-operated businesses until they can invest in all the financial instruments in both the stock exchange and the over-the-counter markets.
Lan Rong, chairman of the board of Industrial Securities Co Ltd, said the financial services of securities companies should be for customer, rather than these firms following a speculative mentality that leads to the pursuit of irrationally high profits .
"The impact of the CSRC's chief's proposals will be much stronger than expected, requiring our brokers and underwriters to shift business more toward wealth management for ordinary investors," said Chen Geng, president of the Guotai & Junan Securities Co Ltd.
The plan also included supporting comprehensive business expansion based on the expansion of QFII, RQFII and QDII quotas; encouraging more mergers and acquisitions among securities companies; promoting institutional investors' participation in the upcoming OTC market and adjusting the risk management system.
Since Guo took up the CSRC's chairmanship last October, the commission has released more than 50 new rules and policies, making it one of the most active reformers in China's ongoing economic restructuring.
During the May Day holiday, the CSRC cut the transaction fees charged by the Shanghai and Shenzhen bourses on trading in yuan-denominated shares by 25 percent.
It also asked companies seeking initial public offerings to release additional financial information when their price-to-earnings ratio is 25 percent higher than the industry average, in an attempt to prevent issue prices from becoming unreasonably high.
Policy observers believe these ambitious reform measures could herald a bull market, while investors are being much more cautious as the Shanghai index remains bearish, and are awaiting the publication of more detailed regulations.
Wang Tao, UBS AG's chief economist in China, said that the CSRC's new measures were an important part of a spate of recent reform initiatives in China that aim to improve macroeconomic policies to help promote growth and rebalance the economy, and herald further financial market opening to foreign investors.
A major element of financial reforms over the next five to 10 years will be to get financial institutions to better serve small and medium-sized companies while opening capital markets to more competition, said Wang, adding that this will help the country achieve sustainable socioeconomic development amid a weak global economic environment.
According to the CSRC chairman, upcoming reforms will concentrate on the problems faced by cash-strapped small businesses, and the lack of efficient investment tools to soak up large amounts of private capital.
chenjia1@chinadaily.com.cn