A life on the ocean wave
Updated: 2012-03-02 09:01
By Wang Ying (China Daily)
| | | | | | | | | | | |
| --- | --- | --- | --- | --- | --- | --- | --- | --- | --- | --- |
|   | | Comments() | | Print | | Mail | | Large Medium  Small | 分享按钮 | 0 |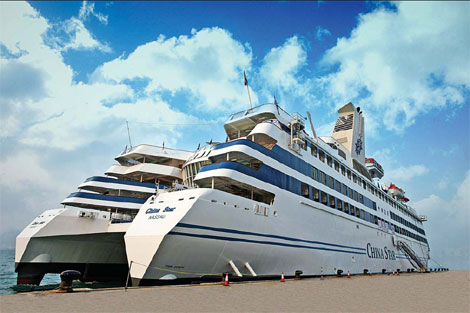 China Star, a luxury cruiser, off the coast of Wenzhou, Zhejiang province. The Wenzhou-based China Cruise Co paid $65 million for the vessel.[Photo/China Daily]
A group of businesspeople is setting sail to bring in cruise liner tourism
SHANGHAI - Wenzhou's businessmen have made a foray into the ocean tourism industry by acquiring a luxury cruise liner.
China Star, the world's only deluxe double-hulled cruiser, is set to begin a trial voyage on March 8 from Hong Kong's Victoria Harbor. It will be the liner's first voyage after it was bought by the Wenzhou-based China Cruise Co, which paid $65 million for the vessel, according to a report in the Hangzhou-based City Express newspaper.
Wenzhou businessman Huang Weijian was the instigator of the purchase. Last year, at his suggestion, a group of Wenzhou businesspeople set up a fund to establish China Cruise Co.
"The cruise liner alone cost us $45 million, but we spent about 500 million yuan ($79 million) in total on the deal, including running China Cruise Co," said Huang.
The 40-year-old businessman is a typical Wenzhou native, with a sharp nose for untapped investment opportunities.
After conducting research into the industry, Huang is confident that cruise tourism will flourish in China as the wealthy look to diversify their leisure choices.
Public information shows that China Star is 131.2 meters long and 32 meters wide. Its 172 rooms on 12 floors can house more than 400 people.
"There are hardly any Chinese-controlled cruise liners, and the industry is a new area of investment potential after our overseas investments ran into difficulties in the wake of the global financial crisis in 2008. This can be seen as the return of Wenzhou investors to the real economy," said Huang.
Zhou Dewen, chairman of the Wenzhou Small- and Medium-sized Enterprises Development Association, is also one of the cruise companz's shareholders.
"This is a good way for Chinese investors to enter the cruise liner field. I think it's important for private capital, which suffered great losses in the financial crisis, to develop a domestic cruise-liner industry," said Zhou.
China Star cost at least $250 million to build, according to the 21st Century Business Herald. "This purchase means that no matter how sluggish the economy is, there are opportunities. Without the economic crisis, we would not be able to buy quality assets at such a low price," Zhou added.
Currently, Chinese shipbuilders are only able to produce luxury cruisers that can navigate the country's rivers, but they are unable to manufacture ocean-going cruisers because of the stricter regulations on interior design and decoration, according to an anonymous source from a large shipbuilding company.
Huang admitted that China Cruise Co is planning to launch a reverse takeover in Hong Kong after injecting its cruise assets into a listed shell company. However, he declined to disclose more details.
China's underdeveloped cruise industry is the result of a shortage in both capital and experience, according to Zheng Weihang, secretary general of the cruise-and-yacht branch of the China Communications and Transportation Association.
Buying a luxury cruiser usually costs at least $100 million, and putting it into operation will incur further layout. In addition, domestic companies have little experience in the operation and management of luxury cruisers, Zheng said.
Huang said the company is still waiting for the green light from the Ministry of Transport for China Star's first official voyage.