Riches from Russia with love
Updated: 2012-03-02 09:45
By He Na and Han Junhong (China Daily)
| | | | | | | | | | | |
| --- | --- | --- | --- | --- | --- | --- | --- | --- | --- | --- |
|   | | Comments() | | Print | | Mail | | Large Medium  Small | 分享按钮 | 0 |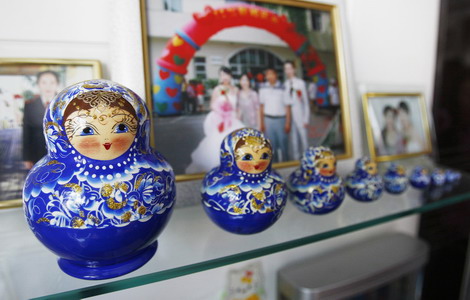 The people of Sihe have a strong link with Russia, the evidence of which can be seen in the style and decoration of their homes. Many residents in this Northeast China community have traditional Russian dolls and other ornaments. [Photo / China Daily]
Villagers who made it good across border are urged to invest at home. He Na and Han Junhong report in Jilin.
On first inspection Sihe looks like a normal village: row upon row of brightly colored houses separated by blue and white fences. The houses are topped by solar panels and the village is surrounded by a sea of fields.
On closer inspection, however, you will notice that the piles of corn that usually adorn front yards in this rural area of Northeast China have been replaced by black sedans, while several homes have installed geothermal heating, which costs at least 100,000 yuan ($15,880).
The village is an oasis of opulence in the impoverished Jilin province countryside - and it is all thanks to Russian consumers.
"Since residents here started going to Russia to work, our lives have changed completely," said Zhao Baoqing, 35, one of the first villagers to head across the border in the early 1990s.
Now, instead of conversations about seeds, fertilizers and harvesting, residents chat about international financial markets and foreign exchange rates.
"I remember when this place was poor, no one wanted our men to marry their daughters - we were ruffians." That is no longer a problem, he said, offering as evidence the fact the village now has 22 Russian brides.
More telling perhaps is that Sihe - population 2,300 - reported an annual per capita income of 200,000 yuan last year and lists among its residents more than 200 millionaires and two billionaires.
Zhao, who now runs two small stores in Moscow selling imported Chinese goods, is one of at least 890 people who have been made rich by business interests in Russia.
The village, 220 kilometers from Changchun, the provincial capital, forms an area that used to rely on coal mining and agriculture as pillar industries. Yet, as resources have diminished, unemployment has risen and the local economy has stuttered.
With job opportunities becoming scarce, more people decided to look abroad.
Making money
Sihe workers first went to Russia in 1993. The initial trip, organized by the labor bureau in nearby Shulan city, simply involved 30 men going to plant vegetables on the outskirts of Chelyabinsk.
Fearing the prices of daily necessities would be expensive, the villagers stocked up on cheap Chinese products before crossing the border. However, they quickly discovered that whatever they did not use could easily be sold.
Coming so soon after the fall of the Soviet Union, there was a large demand among Russians for everyday goods, even at prices several times above the going rate in China.
"That's when we realized there was a real business opportunity," recalled Lu Wenxin, 59, who made the first trip.
News in the village traveled fast, and the next time Lu hit the road he was joined by 35 neighbors. This time, instead of working on a farm, they set up three market stalls and sold Chinese garments.
Despite obvious difficulties, such as the language barrier, most villagers still earned more than they would have toiling in the fields around their homes.
"Life in the village was really miserable and hard back then," said Nie Haitao, who has been doing business in Russia for 19 years. "In 1993, my family of five was making a total of just 4,000 yuan a year from growing corn.
"Although my parents objected, I went to Russia the following year with 600 yuan in my pocket," added the 42-year-old.
Nie's first business was in Chelyabinsk selling bubble gum, which he sold for 2 yuan per piece, roughly 20 times the price he paid. Then, after making a little money, he began to sell sweaters.
Between September and Christmas 1994, he earned more than 10,000 yuan, an astronomical amount for a villager from Northeast China at the time.
Today, he is involved in wholesale jeans in Moscow and said his business is on the up and up.