Riches from Russia with love
Updated: 2012-03-02 09:45
By He Na and Han Junhong (China Daily)
| | | | | | | | | | | |
| --- | --- | --- | --- | --- | --- | --- | --- | --- | --- | --- |
|   | | Comments() | | Print | | Mail | | Large Medium  Small | 分享按钮 | 0 |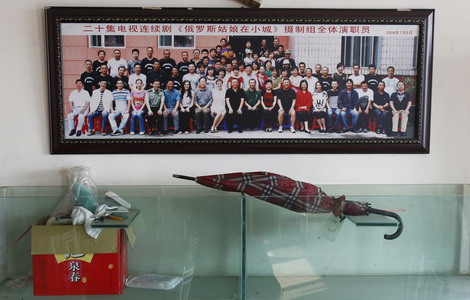 The village was also the setting for the TV series Russian Girls in Town. A picture of the cast and crew is displayed by the village committee. [Photo / China Daily]
Trading places
As more followed, the Shulan government established the Russia Labor Export Association to offer advice and guidance to people wanting to work, live or do business in the country.
Jilin shares a 232.7 kilometer border with Russia, which gives it a geographical advantage, while certain regions of Russia have sparse populations and lack strong labor forces.
Today, Sihe residents have businesses across the vast expanse of Russia, from Vladivostok in the east to Novosibirsk in the west.
According to official figures for Xiaocheng, the town that comprises Sihe, more than 90 percent of the 1,964 residents who worked abroad last year went to Russia, with the rest heading to South Korea and Japan. Together they returned with more than 120 million yuan, the local government said.
Many traders from the area have set up shop at a market nicknamed "Shulan Street" in central Moscow.
"My first business in Russia was at Shulan Street," said Zhao Baoqing. "It's safer to be with villagers in an alien country. The people who started doing business there early often helped latecomers.
"It's not easy to do business there, there are often disputes. But we're united when we face problems," he added.
Empty homes
Despite its wealth, Sihe cannot escape the one characteristic that is shared by all rural communities with large migrant workforces: a lack of young men.
Except for during traditional family occasions such as weddings and national holidays, the village is made up largely of women, children and the elderly. On evenings, less than half of its homes show any sign of life.
"Many of those people who earned money from working and trading in Russia moved to cities (in China)," said deputy village head Qiu Tingfa. "I went to Russia for business before, but I couldn't get used to the life there, so I came back. My sisters and brothers are still there, though."
He now runs a large leisure-activity center in Xiaocheng.
"Every spring plowing season, more than half of the people who appear in the fields of Sihe come from other places," he said. "The majority of Sihe's 400 hectares of farmland has been rented out."
Li Shaochun, 39, is among the many villagers who have used the money they have earned in Russia to renovate their properties. After he spent more than 100,000 yuan, his house boasts the latest electronic appliances and is more modern than those in major cities.
Yet, he hardly ever sees it. For this year's Lunar New Year festivities, a traditional time for family reunions, he stayed just five days before heading back to Moscow.
"My wife and son are there (in Russia), and I worry about them," Li said. "The conditions in our Moscow house are very poor. We co-rent with another family six people crowded in an area of 48 square meters.
"Compared with many newcomers, though, we've got it much better. They live in lodging houses where there are 10 people in rooms the size of 10 square meters."