NPLs will continue to rise in 2012: Analysts
Updated: 2012-03-02 09:01
By Wang Xiaotian (China Daily)
| | | | | | | | | | | |
| --- | --- | --- | --- | --- | --- | --- | --- | --- | --- | --- |
|   | | Comments() | | Print | | Mail | | Large Medium  Small | 分享按钮 | 0 |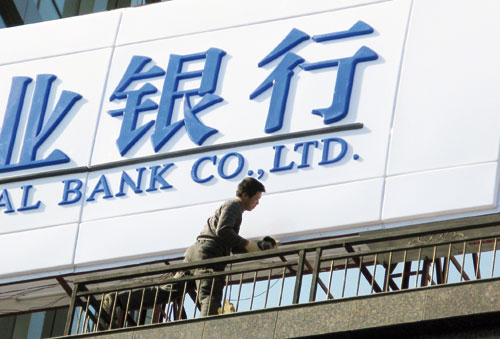 A worker installing billboards at a bank in Shiyan, Hubei province. Industry analysts said the ratio of non-performing loans at Chinese lenders may continue to rise this year. [Photo/China Daily]
BEIJING - The amount of non-performing loans among Chinese lenders will continue to rise in 2012 after picking up in the fourth quarter, said analysts.
Dong Xian'an, chief economist at the Peking First Advisory Co Ltd, said a rollover of loans to local government through financing vehicles will smooth the increase, but in the long run it will become a "cancer" in the banking system if people continue to abuse administrative power and ruin government credit.
By the end of 2011, the NPL ratio for Chinese lenders stood at 0.96 percent, up by 0.01 percentage point from the third quarter, according to data from the China Banking Regulatory Commission.
In the fourth quarter, the amount of outstanding NPLs increased by 20.1 billion yuan ($3.19 billion), or 4.9 percent from three months earlier.
It's the first time since 2005 that both figures have registered an increase.
"Given that the fourth quarter is usually a season when banks write off more bad debts than at any other time, NPLs might have increased by more than 4.9 percent," Luo Jing, an analyst at China International Capital Corp Ltd, wrote in a report.
Among all banks, rural credit cooperatives saw the fastest pace of NPL expansion, reporting a 14.8 percent rise in the fourth quarter. Joint-stock banks ranked second with a 6 percent rise in NPLs.
Banks will face relatively high asset quality pressure in the first quarter as both the number of outstanding non-performing loans and the ratio will probably continue to rise, said Citic Securities Co Ltd in a research note.
It said uncertainties in asset quality among banks will be great through the whole year and outstanding NPLs may rise by 10 to 15 percent year-on-year.
The deterioration of banks' asset quality is just at the primary stage, judging by the 12.3 percent increase in substandard loans, it said.
About 90 percent of new NPLs came from new substandard loans in the fourth quarter.
Chen Daofu, policy research chief of the Financial Research Institute at the Development Research Center, said that although non-performing loans may continue to increase for a while, that doesn't mean Chinese banks have lost their strong growth momentum and high potential.
Lenders in China reported record net profits of more than 1 trillion yuan in 2011, a year-on-year increase of 36.3 percent year.
Shang Fulin, chairman of the CBRC, warned earlier that the banking environment will become more complicated and increasingly competitive in 2012, and the task facing the regulators will be more difficult.
Shang said the government will concentrate on potential risks to credit and liquidity this year. "We must hold to the bottom line of no systemic and regional risks," he said.
A statement posted on the official website of the CBRC on Thursday highlighted the credit risks inherent in lending related to local governments. The CBRC said it will further tighten credit controls on new projects while guaranteeing key projects already under construction.
According to reports, banks have been asked to roll over loans to local government financing vehicles, and have also been asked to increase their tolerance of NPLs by enterprises to shore up the economy.
Questions about how to deal with existing debt will be unavoidable during the meeting of the National People's Congress, said Yao Wei, China economist at the French bank Societe Generale SA.
"We expect the Ministry of Finance to increase the amount of delegated local bond issuance to 250 billion yuan in 2012 from 200 billion yuan during the previous three years. In addition, the pilot scheme of independent local government issuance is likely to be expanded as well."
Yao said the finance minister may shed some light on policies regarding local government debt rollover and a potential reform roadmap for local financing when the top legislature meets next week.