Brewing up a success story
Updated: 2012-03-01 09:22
By Huang Ying (China Daily)
| | | | | | | | | | | |
| --- | --- | --- | --- | --- | --- | --- | --- | --- | --- | --- |
|   | | Comments() | | Print | | Mail | | Large Medium  Small | 分享按钮 | 0 |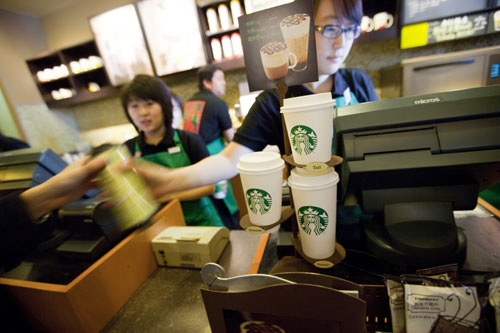 Servers help customers at a Starbucks Corp outlet in Beijing. Starbucks opened its first cafe on the Chinese mainland on Jan 11, 1999,[Photo/China Daily]
Starbucks aims for 1,500 outlets across Chinese mainland by 2015
BEIJING - When Belinda Wong heard the news that she was to be appointed Starbucks China president last July, she said the first thing that came into her mind was when she could take up the position.
"Starbucks is building a really exciting growth story in China and I am really excited to be part of this development," Wong said.
Energetic by nature, the former general manager of the Starbucks business in Hong Kong for Coffee Concepts, a joint venture between Maxim's Caterers and Starbucks Coffee International, Wong showed a lot of passion for her new role within the world's largest coffee chain.
The major mission for her is to help Starbucks fulfill its target of setting up 1,500 outlets on the Chinese mainland by the year 2015. There are currently 550.
"As we grow in scale in China, we will also contribute to creating job opportunities in the cities where we operate. We estimate that Starbucks will triple its employment in China to 30,000 when we reach the goal," Wong said.
However, Starbucks is not the only coffee brand with ambitious expansion plans in China. The promising market has also attracted other players in the field, such as British brand Costa Coffee and Hong Kong-based Pacific Coffee Co.
Costa Coffee runs more than 120 stores in China at present, far fewer than Starbucks, but it aims to take a third of the market share on the Chinese mainland by expanding to 2,500 outlets by 2018.
The newcomer Pacific Coffee announced early last year that it will open about 50 stores by the end of 2011 on the mainland, mainly in four cities - Beijing, Shanghai, Shenzhen and Guangzhou.
Wong said that Starbucks respects its competitors and what they bring to the market.
"We believe that all of us in the industry play an important role contributing to the continued vibrant growth and development of the Chinese coffee market," she said.
As China is Starbucks' largest market outside its home in the United States, it accelerated the pace of penetrating the market here in recent years, including signing a co-partnership with Pu'er city, Yunnan province, in November 2010 where it grows and processes coffee beans and conducts research on cultivation. The coffee plantation in Yunnan is the first of its kind globally, a move that will complete the coffee retailer's value chain, from coffee seed to brewed drink.
It also developed many products tailored for Chinese customers, including black sesame green tea, frappuccino blended crme, iced rice dumplings and Starbucks mooncakes.
"Our customers can definitely expect to see more locally-relevant innovations across our food and beverage offerings," Wong said.
Last April, the company introduced Starbucks VIA instant brew coffee in two flavors to China.
Sales of instant coffee in China increased 13 percent year-on-year in 2010 to 5.1 billion yuan ($810 million), according to a report from Euromonitor International, a London-based market research firm.
"We have never felt more confident about accelerating our growth momentum. Moving forward, we will focus on deepening our footprints in our first-tier city markets while expanding our presence in China's provincial capitals," said Wong after the 500th store was opened in Beijing on Oct 25, 2011.
Wong said she thinks the coffee market in China is huge and, even in the first-tier cities, "it is absolutely not saturated".
Wong joined Starbucks in 2000 after graduating in commerce from the University of British Columbia. She started as a marketing director for the Asia-Pacific region. During the past 12 years, she has held leadership positions across a variety of business units and geographies.
Her experience in brand management and formulating marketing strategies in different places, from Singapore to Hong Kong and Macao over the last few years has earned her the necessary insights and credit to run the company's business in the important and promising market of the Chinese mainland.
John Culver, president of Starbucks China and Asia-Pacific, said that "as a 12-year Starbucks partner, Belinda has demonstrated exceptional leadership, strong business acumen and deep passion for the Starbucks brand and our partners".
He added: "I am confident that Belinda, together with her Starbucks China leadership team, will continue to build on our China business momentum and achieve our ambitious goal to serve our customers through 1,500 stores by 2015."
Having opened the first store on the Chinese mainland on Jan 11, 1999, at the China World Trade Center in Beijing, Starbucks has become a part of many communities throughout China with its 550 stores located across 42 cities.
"I am not new to China. During my 12 years with Starbucks, I spent time in the market as managing director for the company-operated markets of Starbucks China, overseeing 180 stores in China's north, northeast, south and southwest regions," she said.
Since moving back to China last May, Wong says she has been extremely humbled by the new things she has learned about the market every day from Starbucks partners and customers.
Although China is a huge and diverse market, her perception of it caused her to firmly believe that the value of the Starbucks experience is relevant regardless of background, spoken local dialect or culture.
In 2010, it entered 13 new markets in China, including Wenzhou, Zhejiang province, Kunming, the capital of Yunnan, and Hefei, capital of Anhui.
Speaking of the ambitious expansion plan, Wong said the key to its growth strategy in China is that each Starbucks store is unique to its partners, customers and the community.
"We are not just aiming to open another 1,000 stores over the next four years. We are in fact opening one store 1,000 times," she said.
Each new store will be designed in a local-customized way. It will have to engage in the community where it's located instead of being alien to local people.
"Starbucks' success in China and our success globally are inextricably linked," Wong said when asked about the relationship between the China market and its global markets.
"We have full support and commitment from Seattle to execute our growth plan in the market."
There are several factors that determine store locations, such as demand and real estate factors. "The store location must make business sense for the company," she said.
Wong, who was in charge of Starbucks business in Hong Kong for a long time, said there are more similarities than differences in business strategy and operations between the two markets.
She also added that if there is one difference she can highlight, it will be the speed of service. "Speed of service is important to our customers in Hong Kong as many of them will order their beverage to go. They come into our stores, place their orders and will want to collect their beverage quickly before rushing to their next appointment."
The biggest challenge for Starbucks' further development on the mainland is "how to make sure that we don't lose the focus in doing what we do best as well as remaining true to our brand and values", Wong said, to which she refers as elevating the coffee experience within the market.
Wong cherishes time with her parents and friends and usually does the same things as ordinary people in their leisure time, such as watching movies.
Despite having a tight schedule every day, Wong always looks vigorous. She said that her secret for keeping at her best when working is her resolution to quit work at 6:30 pm or 7:00 pm. Unlike many workaholic entrepreneurs and senior staff, she knows the power of "switching off".
"Honestly speaking, I'm one of the lucky ones because I don't have that problem of thinking about things related to work when I get home or go to bed," she said.
However, she used to be one of that "unlucky" group. After trying many different ways to alter her schedule, she finally succeeded.
"I told myself that I need a good rest right now so that I can switch on the next day."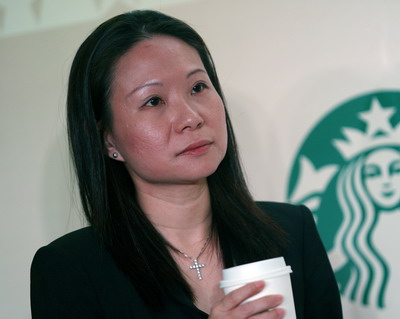 Belinda Wong