Age of restoration
Share - WeChat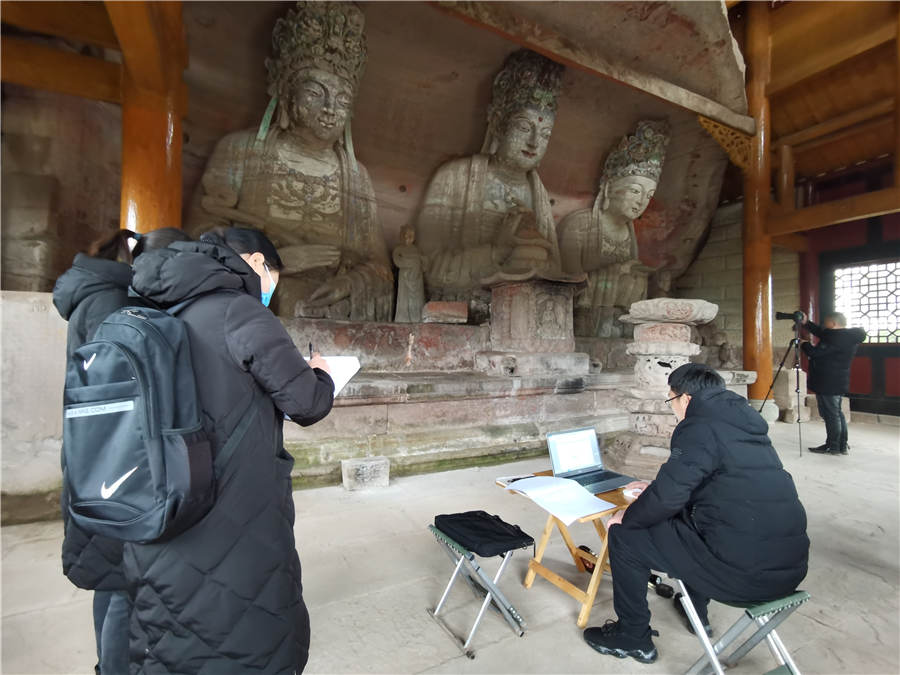 Lasting effort
The carvings have also enjoyed a unique status among Chinese grotto temples for mixing Buddhism with indigenous beliefs like Confucianism and Taoism, Li explains.
In some grottoes there, the Buddha is even worshipped together with statues of Confucius and Laozi, the founder of Taoism.
But this remarkable heritage, blending the three beliefs, which may have been pivotal for Luo's ancestors for centuries, remained isolated and unknown to the outside until the 1940s during the War of Resistance Against Japanese Aggression (1931-45). Chongqing then was China's wartime provisional capital and the hub for the country's top-tier scholars.
The first investigation group was composed of iconic historians and archaeologists, like Gu Jiegang and Ma Heng, who arrived in 1945 and surprisingly found the Dazu Rock Carvings had a significance comparable to the Mogao and Yungang caves.
Since 1952, when the first conservation institute for the Dazu Rock Carvings was founded, generations of researchers have been fascinated by the place. More than 100 people are regularly stationed at the Academy of Dazu Rock Carvings for relevant studies.
According to Deng Qibing, deputy director of the academy's archaeology department, one of the biggest achievements in recent years was the publication of an 11-volume archaeological report on the carvings, completed in 2018.
"It took 16 years," Deng says. "It filled in a blank of overall archaeological reports for large-scale grotto temples in China."
Last year, improving archaeological research was particularly emphasized in the State Council's first national-level and long-term guideline specifically for the protection and study of grotto temples.