China and ASEAN show they will not be impeded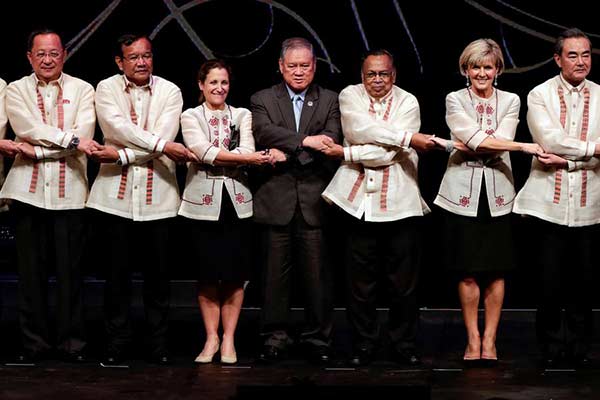 North Korea's Foreign Minister Ri Yong Ho, Cambodia's Foreign Minister Prak Sokhon, Canada's Foreign Minister Chrystia Freeland, Brunei Darrussalam's Foreign Minister Lim Jock Seng, Bangladesh's Foreign Minister Abul Hassan Mahmood Ali, Australia's Foreign Minister Julie Bishop and China's Foreign Minister Wang Yi link arms during the Gala Dinner of the Association of South East Asian Nations (ASEAN) Foreign Ministers' Meeting (AMM) and Related Meetings in Manila, Philippines, August 6, 2017.[Photo/Agencies]
In a significant step toward building peace and stability in the South China Sea and the region at large, the foreign ministers of China and the 10 members of the Association of Southeast Asian Nations endorsed the framework for a Code of Conduct in the waters in Manila on Sunday.
It once again underscores the strong political will of China and the ASEAN countries to work together to maintain stability in the South China Sea and sustain the positive momentum they have established in their relations.
The drawing up of a framework outline for the proposed code of behavior designed to prevent clashes in the South China Sea has been a significant achievement. And as Chinese Foreign Minister Wang Yi pointed out in Manila, the agreement on the framework has laid a solid foundation for substantive consultations on the Code of Conduct.
With their joint efforts to reach agreement, China and the members of ASEAN have also sent a strong message to the international community that they are fully capable of handling issues of common concern in the region without any interference from a third party.
For while China and ASEAN are looking to the future and seeking new prospects from working together for peace, stability, and prosperity, some countries outside the region seem intent on stirring up trouble and stoking tensions in the South China Sea.
This year, US President Donald Trump has continued the controversial practice of his predecessor and sent warships to the waters under the duplicitous pretext that such a show of force is to safeguard the freedom of navigation of commercial shipping.
The United States likes to accuse Beijing of trying to militarize the South China Sea, but it is the US and its close allies that are doing that: The United Kingdom being the latest to jump on the freedom of navigation bandwagon by proposing to send warships to the South China Sea next year.
If these outside forces really cared about freedom of navigation they would be supporting China and ASEAN's efforts to promote peace and stability in the region rather than trying to undermine them.
To give substance to their words, they should join hands with China and ASEAN to safeguard and build on the hard-won positive momentum so that the South China Sea is a seaway for peace, friendship and cooperation.