Floating carcasses prompt safety concerns
Disposal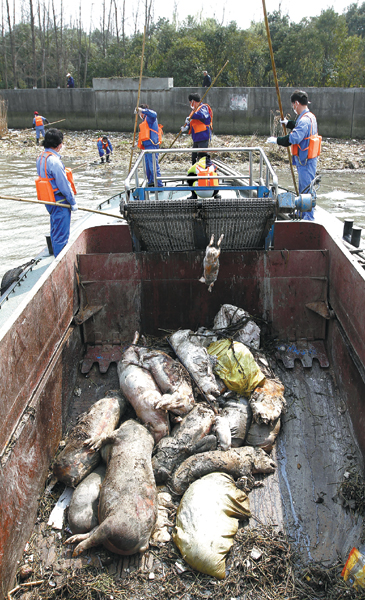 A large number of carcasses have been discovered floating in the Huangpu River and rivers and lakes in neighboring Jiaxing city. [Photo by Xing Kong / for China Daily]
China is the world's largest consumer and producer of pork. The country accounted for almost 50 percent of global production in 2011, according to the United States Department of Agriculture.
Approximately 130,000 households raised more than 7 million pigs in Jiaxing last year, 89 percent of them coming from small farms, capable of raising fewer than 50 pigs each.
Although evidence that the carcasses originated in Jiaxing is still sketchy, the problems arising from pig breeding and the disposal of dead animals mean the town has inevitably been in the spotlight.
"While it's wrong for people to dump carcasses in the river, it's almost inevitable, given that the disposal of so many dead pigs requires land and investment, which are usually beyond the capacity of individual farmers. However, the government mechanism to compensate farmers or solve the problem is inadequate," said Feng Yonghui, general manager of the online pig industry researcher Soozhu.
China Business News quoted a Zhulin resident who said villagers throw out dead pigs just like they throw out garbage. Conscientious farmers transfer the carcasses to assigned disposal points, but the rest dump the bodies wherever it's convenient.
Huang Jun, vice-head of Xinfeng township, which administers Zhulin village, said the town established a system to oversee the collection of dead pigs in 2009. So far, 112 collection points have been set up and others will follow.
"Villagers are required to hand the pigs over at the collection points or wait for government workers to come and collect them. But some individuals still throw pigs into the water. We have to continue educating them and tell them about the environmental damage caused by throwing dead animals into the river," he said.
Following the discovery of the carcasses, the local authorities tightened the regulations on dumping. "People who dispose of carcasses illegally will be fined 2,000 yuan ($322) and detained for seven days," said Huang.
Feng said farmers are generally unwilling to inform the authorities about a large number of deaths caused by disease because the ineffectual compensation system often results in big losses. "In many cases, the dead pigs are sold on the markets without being inspected by the authorities," he said.
Compensation
Pig farmers and slaughterhouses are eligible for compensation of 500 yuan for each sick pig that dies, while slaughterhouses that dispose of carcasses receive 80 yuan per pig.
However, even such a relatively modest amount cannot usually be afforded by local governments, which generally do not include funds for the disposal of dead pigs and other livestock in their budgets. The central government provides only a limited amount of the total compensation, leaving the local authorities to cover the shortfall, which they are often unable to do.
Peng Li, a veterinarian at the animal veterinary station in Nanzheng county, Shaanxi province, said poor compensation is one of the main reasons why farmers either dump carcasses or illegally sell the bodies of pigs that have died of disease.
She added that even when farmers try to dispose of carcasses in the approved fashion, the process is not standardized and can still cause pollution. "When a large number of pigs die, the usual practice of burying them is impractical because of a shortage of usable land in the rural areas," she said.
Meanwhile, small farmers' lack of awareness about methods of disease prevention is another problem.
"When a small number of piglets die, they are just thrown away. But when they die in large numbers, illegal slaughterhouses collect the bodies at a low price. Some of the meat is used to make fillings for dumplings," said Zhang Qiang, who has switched from running a small farm in Wulian county, Shandong province, to a much larger operation of more than 1,000 pigs. He said he had never heard of any sort of local authority compensation.
Related: