Xi calls for more China-Laos cooperation in public welfare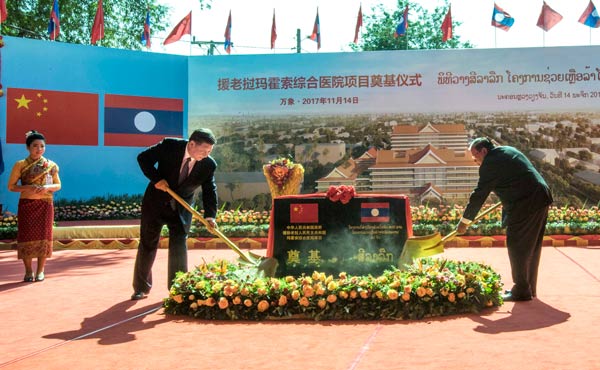 President Xi Jinping, also general secretary of the Communist Party of China (CPC) Central Committee, and Bounnhang Vorachit, general secretary of the Lao People's Revolutionary Party (LPRP) Central Committee and president of Laos lay ground for a China-sponsored hospital in Vientiane, capital of the Laos November 14, 2017. [Photo/Xinhua]
VIENTIANE - Chinese President Xi Jinping said here Tuesday that China and Laos need to channel more of their cooperation efforts to the public welfare sector.
He made the remarks while attending the foundation-laying ceremony for a China-built hospital in the Lao capital along with Lao President Bounnhang Vorachit.
"The cooperation of our two countries should be more focused on improving people's livelihood, thus benefiting more local residents," said Xi, also general secretary of the Communist Party of China Central Committee.
The health authorities of the two sides should increase policy communication and practical cooperation to jointly improve medical services and deliver greater benefits to our two peoples, he added.
The health project with Chinese assistance includes the expansion of the existing Mahosot Hospital in Vientiane and the building of new medical facilities in the hospital. As a landmark project in China-Laos cooperation in public welfare, the new hospital is expected to be put into use in 2021.
After the foundation-laying ceremony, Xi and Bounnhang, also general secretary of the Central Committee of the Lao People's Revolutionary Party, visited the Chinese ophthalmologists and nurses working at the hospital.
Xi praised the work of the Chinese doctors, saying that they have brought brightness to Lao patients, contributed to the China-Laos friendship and demonstrated the spirit of internationalism.
The two leaders also visited two Lao patients who have just recovered after receiving cataract operation by Chinese ophthalmologists.
Xi wished them a happy life, while the Lao patients expressed deep gratitude to the Chinese government.
Also on Tuesday, Xi laid a wreath at the Monument to the Unknown Soldier in Vientiane.