PLA Navy ships buoy ties with UK
Three naval vessels berth in London for five-day goodwill visit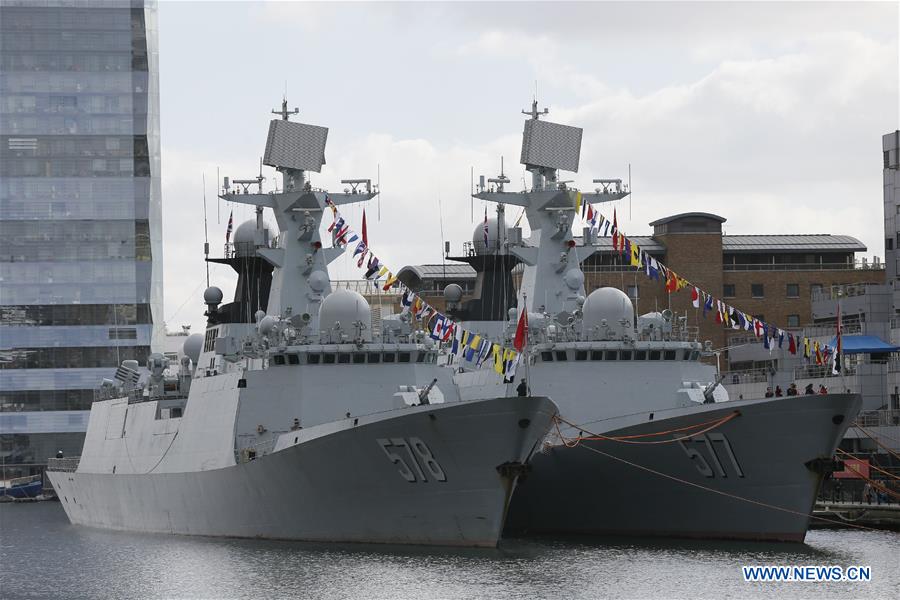 Chinese naval guided-missile frigates Huanggang (R) and Yangzhou are seen in London, Britain, on Oct. 3, 2017. China's 26th naval escort fleet arrived here Tuesday for a five-day friendly visit to Britain. This is the first time for Chinese naval ships to pay an official visit to the British capital city. [Photo/Xinhua]
After visiting the Belgian port of Antwerp and making a stop in Denmark, two naval frigates and a supply ship from the 26th Escort Task Group of the People's Liberation Army Navy berthed at London's Canary Wharf on Monday at the start of a five-day goodwill visit to the United Kingdom.
The visit, which Liu Xiaoming, China's ambassador to the UK, described as history making in the realm of China-Britain military relations, is expected to offer the British public and its military the chance to see first hand China's growing military strength and its unremitting contribution to world peace.
Senior Captain Wang Zhongcai, who is also the fleet commander, said the ships will be open to the British public so people can get a better understanding of China and its Navy. Wang said there will also be a number of deck receptions for special guests.