Regal giant pandas greet their subjects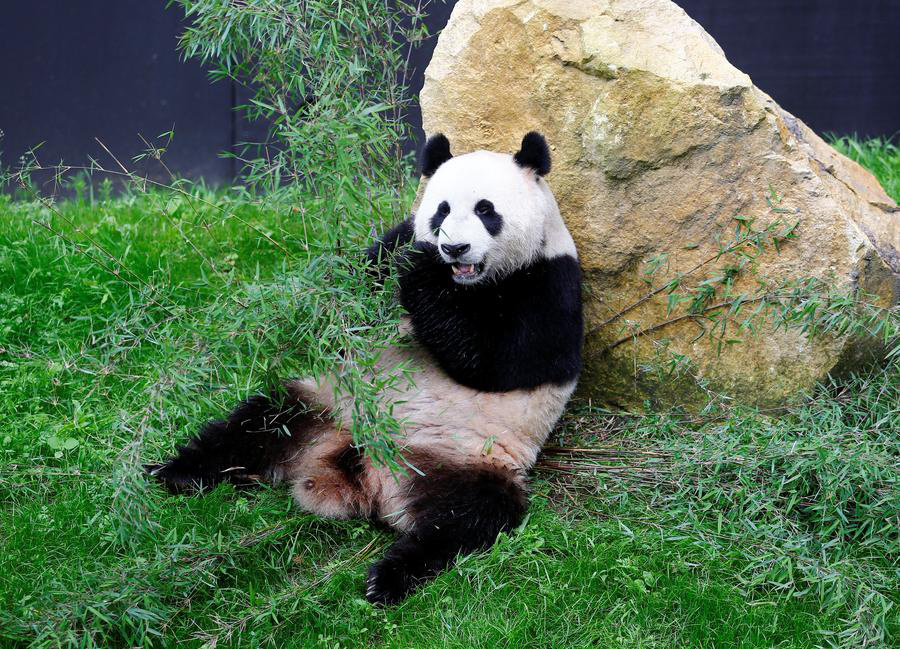 Xing Ya, one of two giant pandas, is presented at the Ouwehands Zoo in Rhenen, the Netherlands, May 30, 2017. [Photo/Agencies]
Xing Ya, the male, strode out of his court like an emperor inspecting his territory. He patrolled the grassland, tested a shallow rig, pawed the wooden wall and tried to climb up a tree trunk, which defied his heavy body.
Abandoning the uncooperative tree, he enthroned himself on a rock to enjoy early summer sunshine. With a lofty disdain, he greeted a full circle of cameras and mobile phones marveling at him.
"Both are in perfect health and have adapted well to their new home," said Zhang Hongwen, chief economist of China's State Forestry Administration.
Wu Wen and Xing Ya, both three years old, will stay at Ouwehands for 15 years. Native to Southwest China, they belong to a conservation-reliant vulnerable species which number only 1,864.
"I am glad to see that Wu Wen and Xing Ya are so popular in the Netherlands. Living at this wonderful residence in Chinese palace style, they are really treated as emperor and empress," Zhang said.