Nobel Prize award ceremony held in Stockholm; Bob Dylan absent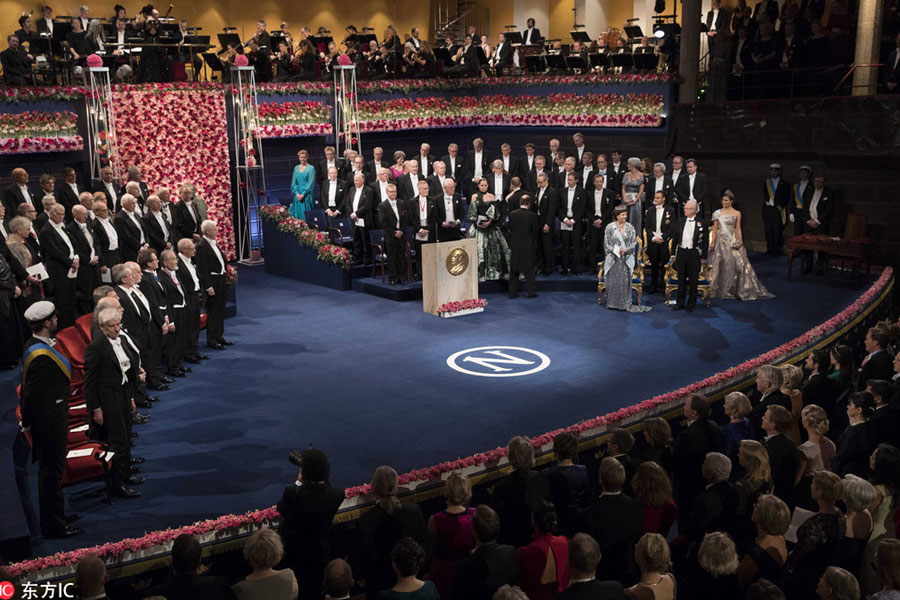 The Nobel Prize award ceremony is held at Stockholm Concert Hall in the Swedish capital Stockholm on Dec 10, 2016. [Photo/IC]
STOCKHOLM -- The Nobel Prize award ceremony was held on Saturday in the Swedish capital, with the absence of US musician Bob Dylan.
Dylan, laureate of the Nobel Prize in Literature, was absent, citing "pre-existing commitments". The 75-year-old was the first singer-songwriter awarded the literature prize.
Carl-Henrik Heldin, Chairman of the Nobel Foundation, said that the prize rewarded those who have conferred the greatest benefit to mankind.
"Just as in the era of Alfred Nobel, today there are dark clouds in the sky around the world. Terrorist acts are a part of many people's daily lives, and wars are under way in many places," he said.
International cooperation, cross-border movements and openness are being criticized. Science and knowledge are being questioned, the climate issue being one recent example, Heldin said.
"Leading politicians -- both in Europe and the United States -- are winning votes by denying knowledge and scientific truths. Populism is widespread and is reaping major political successes," he said.
"The grim truth is that we can no longer take it for granted that people believe in science, facts and knowledge," he added.