Top 10 most valuable private TMT companies
Ant Financial Service Group, the financial affiliate of Alibaba Group Holding Ltd, took the top spot with valuation of 482.7 billion yuan ($69.96 billion) among unlisted companies in the telecommunication, media and technology (TMT) industries, according to a list released by 36 Kr, an ecological service platform for internet startups, on December 7, 2016.
The list covers private TMT companies with their core business on the Chinese mainland and that obtained financing during the period of October 2013 to October 2016.
Tech giant Xiaomi Corp and ride-hailing service provider Didi Chuxing took the second and third places with valuations of 29.50 billion yuan and 18.89 billion yuan respectively.
Here is a list of the top 10 companies.
No 10 ZhongAn Insurance
Valuation: 50 billion yuan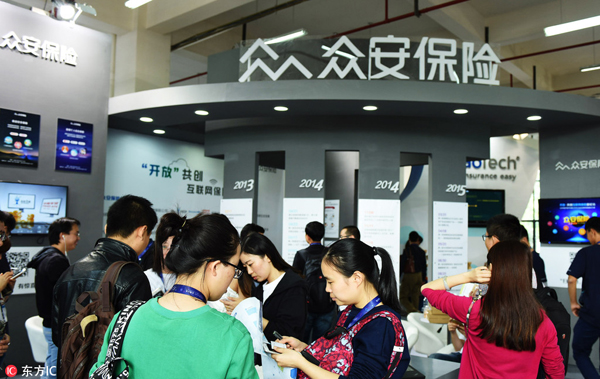 People visit the stand of ZhongAn Online Property and Casualty Insurance, China's first online insurance company, during an exhibition in Hangzhou city, East China´s Zhejiang province, October 14, 2015. [Photo/IC]