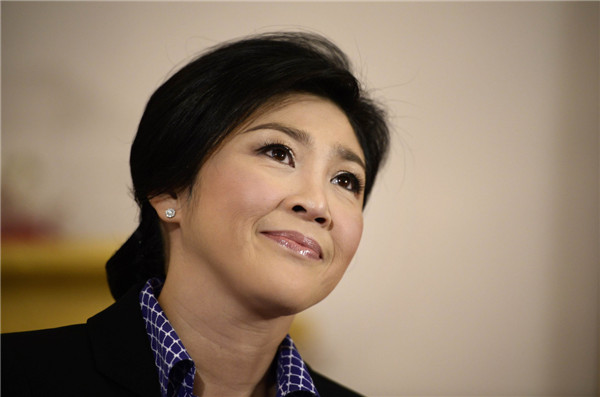 Thai Prime Minister Yingluck Shinawatra talks to journalists during an interview with foreign media at the Government House in Bangkok December 7, 2013. [Photo/Agencies]
BANGKOK - Thai Prime Minister Yingluck Shinawatra said Sunday that she was ready to resign or dissolve the parliament to end the ongoing political turmoil.
But an election has to be held within 60 days of the dissolution of the parliament, she said.
Yingluck added she did not want to see parties boycott the election and lead to a military coup, just as what happened in 2006.
If the anti-government protestors reject the offer, the political impasse will last even longer, Yingluck said.
Yingluck on Saturday reiterated that she was still open to negotiate with protest leader Suthep Thaugsuban.
But Suthep earlier made clear that Yingluck's resignation or the dissolution of the parliament would not put an end to the protests.
He proposed establishing a "people's council" to govern the country, which Yingluck dismissed as unfeasible under the constitution.
Suthep on Friday night called on people from across the nation to join a massive rally on December 9, which he said would be "the final showdown with the government."
Starting at 9:39 am, all protesters will march on Government House in a final attempt to topple the government, according to Suthep.
Utmost efforts will be made to protect Government House in a peaceful manner, Yingluck said.
Ahead of the final showdown, the police have started to erect barricades around major government buildings.  
Thousands of police would be deployed on Monday, according to chief of the National Security Council Paradorn Pattnatabut.