Car sales remain in fast lane
Updated: 2013-12-07 06:52
Double-digit increase seen for 2013 after 2 years of weak performance
China's passenger vehicle sales sped ahead in November, with a double-digit increase for the full year in sight for the world's largest automobile market.
Total sales of passenger cars, sport utility vehicles, multipurpose vehicles and minivans surged 14.9 percent year-on-year to 1,631,394 units last month, the China Passenger Car Association reported on Friday.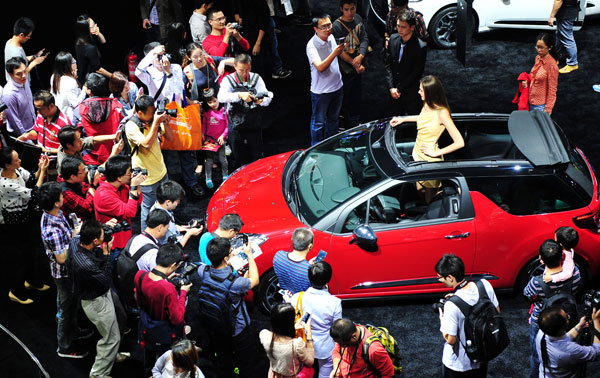 Visitors look at a new car model at a recent auto show in Guangzhou, Guangdong province. Most of the country's automakers will exceed their sales targets for this year due to unexpectedly robust demand. Lu Hanxin / Xinhua
For the first 11 months, sales jumped 17.1 percent to 15.4 million units, signaling full-year growth of at least 15 percent.
The strong recovery followed an annual increase of just 2.5 percent in 2011 and one of 4.3 percent in 2012.
Rao Da, secretary-general of the association, said he expects even stronger sales in December, based on the increase in November.
The annual surge in consumption ahead of the Lunar New Year, which falls at the end of January 2014, will start before the end of 2013.
"Most of the automakers will exceed their sales targets for 2013, due to the unexpectedly vigorous market," said Rao.
"Vehicles are a backbone industry for the economy. The high growth rate, which was set against a high year-earlier base, indicates that the national economy is headed for a soft landing," said Rao.
Although he said it's hard to predict next year's exact economic growth rate for next year, it "will be higher than this year" assuming there's no "black swan" type of event.
However, he said it was unfortunate that the combined market share of domestic brands was still dipping this year even as their Japanese rivals enjoyed a robust recovery from the impact of last year's anti-Japan protests.
"To be strong, not just big, China's domestic vehicle industry should stress the development of key components," said Rao.
"In recent years, more domestic manufacturers have paid attention to purchasing parts from foreign suppliers to help promote their quality and technology. But the support for their brand images is limited."