Car workers steer way to new heights
Updated: 2013-11-25 07:50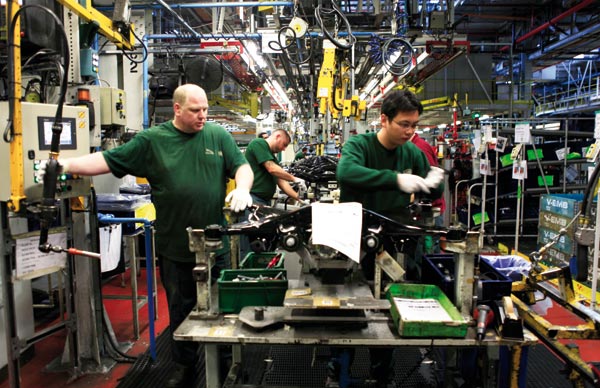 Workers at the Jaguar Land Rover UK factory. [Photo / China Daily]
Companies export quality control to Chinese joint venture operations
The two companies that comprise Jaguar and Land Rover have together poured more than a century of effort into building their reputations, so there is little surprise that maintaining standards is one of the joint company's top priorities as it expands into China.
One of those ensuring that happens is Du Keke, a manufacturing safety monitor, who says his job has taught him a lot about craftsmanship and following strict procedures.
"We have to maintain consistency and standards in our records, so someone from another department can immediately see what's going on here," he says, pointing to a board covered with charts next to his desk.
Behind Du, who is training at Jaguar Land Rover's factory in Liverpool, is a team busy working on engines for new cars. As the assembly belt inches its way past Du, workers accompanying the car parts nod to him with a smile.
"We very rarely have accidents or malfunctions, so we record 'safe' generally," he says.
Du is one of 50 workers recently taken on from Jaguar Land Rover's China joint venture with Chery who are now training with the UK manufacturer, a three-month stint that began in August.
Jaguar Land Rover says the training is particularly important in transferring technology to its Chinese partner because it allows Chinese workers to understand the quality, work ethic and dedication the heritage brand demands of its workers.
Quality may come across as a vague concept, but Du says he is fully in tune with it in his training. To demonstrate the point, he looks down at the factory floor that is marked with yellow lines that separate walkways from areas restricted to cars.
"You see these lines? They don't seem like much, but they establish the rules and standards within the company, and reduce the chances of accidents," he says, adding that in Chinese car companies where he previously worked the rules were not as strict.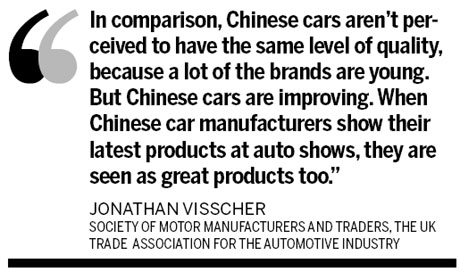 Foreign car makers are gradually introducing higher quality and standards to China through joint ventures. The experience of Du and his workmates at Chery Jaguar Land Rover illustrate how that is happening.
"Take a company like Jaguar Land Rover, which has a rich culture and heritage, and they take pride in their cars," says Jonathan Visscher, of the Society of Motor Manufacturers and Traders, the UK trade association for the automotive industry.
"They would want to ensure the quality of their cars when they go to China. The entry of brands such as Jaguar Land Rover to China really helps to raise the general standards for everyone in the industry, because there are more choices of high-quality cars for the Chinese, who will choose where to spend their money."
Chinese car buyers put a big premium on many Western car brands because they are regarded as being of the highest quality, given the companies' years of experience in serving customers, he says.