Chicago street protests target financial industry
Updated: 2011-10-11 11:00
(Agencies)
| | | | | | | | | | | |
| --- | --- | --- | --- | --- | --- | --- | --- | --- | --- | --- |
|   | | Comments() | | Print | | Mail | | Large Medium  Small | 分享按钮 | 0 |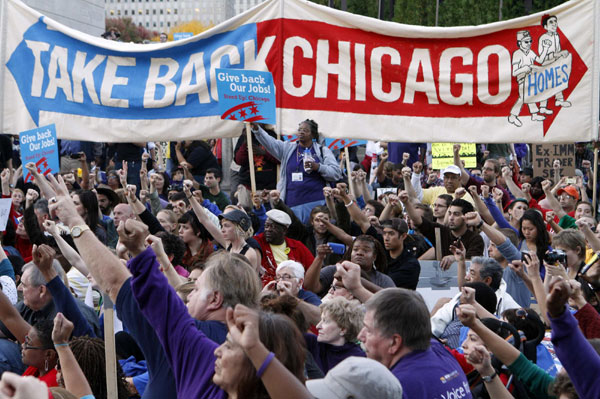 Members of a coalition called "Stand up Chicago" raise their fist during a protest outside the Art Institute in Chicago October 10, 2011. [Photo/Agencies] 
CHICAGO - Thousands of protesters, including teachers and religious leaders, converged on downtown Chicago on Monday to rally against economic inequality, with two financial industry events in their crosshairs.
Some demonstrators gathered outside a meeting of the Mortgage Bankers Association, while others came together near a luxury hotel where a US futures exchange trade association was holding a conference.
The protests were inspired by, but not formally affiliated with, the Occupy Wall Street movement that began in New York last month.
Police estimated 3,000 protesters at the events organized by the "Stand Up Chicago" coalition, which includes teachers, trade union officials and religious leaders. The group said on its website that its goal was to reclaim "our jobs, our homes and our schools."
Chanting "we are the 99 percent," hundreds of protesters gathered in front of the Chicago Board of Trade and the Chicago Federal Reserve Bank.
They carried signs demanding "Liquidate the Fed" and "Repeal Bush tax cuts." Another read: "I smell a general strike."
"We really want to highlight the role the financial industry has played," said Adam Kader of "Arise Chicago," an interfaith workers' rights group that is part of the coalition. "They're here in our backyard, so this is the time to send a message about how we're really hurting."
He said the demonstration would focus on foreclosures, unemployment and lack of municipal funding for key services.
Police arrested 27 demonstrators, many wearing Chicago Teachers Union T-shirts, who linked arms and sat down in he middle of the street as they chanted "Save our schools, save our homes!"
One demonstrator faces a charge of battery on a police officer.
Nearby, a crowd chanted "Shame on you!" to members of the Futures Industry Association who peered out from a balcony of the Chicago Art Institute, where they attended a party.
MORE PROTESTS PLANNED
Several protesters each paid $2,245 to gain admission to the Mortgage Bankers Association event, organizers said.
One protester got to a microphone during a panel discussion and asked Michael Heid, president of Wells Fargo Home Mortgage, a top national mortgage lender: "How do you sleep at night?"
MBA CEO David Stevens had warned Monday's conference that protesters were expected at the hotel and advised attendees not to "engage or confront" the demonstrators.
In a statement, the MBA said those attending its meeting in Chicago were focused on sustainable home ownership and ensuring access to affordable mortgage credit for qualified homeowners.
"We all recognize that our industry faces a trust deficit with policymakers and the public, and that people in our industry contributed to the events that led to the financial crisis," the Association said in a statement.
More demonstrations were planned over the next three days. Other groups participating in the protests included the Chicago Coalition for the Homeless.
Roderick Drew, spokesman for the city's law department, said protesters had been working with police, who aimed to allow free speech without impairing people's ability to get around.
Chicago has already seen weeks of daily protests outside the Federal Reserve Bank by "Occupy Chicago," an echo of the much larger Wall Street protests. "Occupy Chicago" demonstrators planned to join the "Stand Up Chicago" demonstration.
"Some people say we are the Tea Party for the Democratic Party," said Emilio Baez, a 17-year-old high school student, referring to the US conservative political movement that had a major impact on the 2010 congressional elections.
"We are the working class, for a mass movement of democracy," he said, his voice hoarse.