New York - The figure in the photograph is clad in Army fatigues, boots and helmet, lying on his back in peaceful repose, folded hands holding a military cap. Except for a thin trickle of blood from the corner of his mouth, he could be asleep.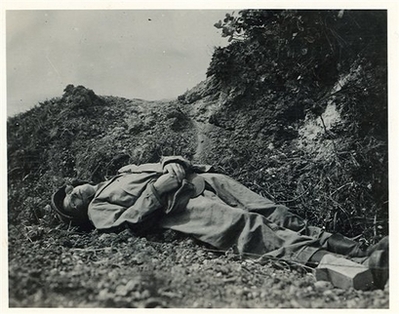 This photo provided by Richard Strasser, perhaps never before published, shows famed World War II war correspondent Ernie Pyle shortly after he was killed by a Japanese machine gun bullet on the island of Ie Shima on April 18, 1945. Pyle, 44, had just arrived in the Pacific after four years of writing his popular column from European battlefronts. The Army photographer who crawled forward under fire to make this picture later said it was withheld by military officials. An AP survey of history museums and archives found only a few copies in existence, and no trace of the original negative. [Agencies] 
But he is not asleep; he is dead. And this is not just another fallen GI; it is Ernie Pyle, the most celebrated war correspondent of World War II.
As far as can be determined, the photograph has never been published. Sixty-three years after Pyle was killed by the Japanese, it has surfaced surprising historians, reminding a forgetful world of a humble correspondent who artfully and ardently told the story of a war from the foxholes.
"It's a striking and painful image, but Ernie Pyle wanted people to see and understand the sacrifices that soldiers had to make, so it's fitting, in a way, that this photo of his own death ... drives home the reality and the finality of that sacrifice," said James E. Tobin, a professor at Miami University of Ohio.
Tobin, author of a 1997 biography, "Ernie Pyle's War," and Owen V. Johnson, an Indiana University professor who collects Pyle-related correspondence, said they had never seen the photo. The negative is long lost, and only a few prints are known to exist.
"When I think about the real treasures of American history that we have," says Mark Foynes, director of the Wright Museum of World War II in Wolfeboro, N.H., "this picture is definitely in the ballpark."
Ernie Pyle, war correspondent beloved by his co-workers, GIs and generals alike, was killed by a Japanese machine-gun bullet through his left temple this morning ..."
The news stunned a nation still mourning the death of Franklin D. Roosevelt six days earlier. Callers besieged newspaper switchboards. "Ernie is mourned by the Army," said soldier-artist Bill Mauldin, whose droll, irreverent GI cartoons had made him nearly as famous as Pyle.
He was right; even amid heavy fighting, Pyle's death was a prime topic among the troops.
"If I had not been there to see it, I would have taken with a grain of salt any report that the GI was taking Ernie Pyle's death 'hard,' but that is the only word that best describes the universal reaction out here," Army photographer Alexander Roberts wrote to Lee Miller, a friend of Ernie and his first biographer.