VIENNA, Austria - Shrugging off calls to pump more oil, OPEC ministers said Friday that output levels will not be increased out of fear that a softening global economy will translate into weakened demand.
Any decision by the Organization of Petroleum Exporting Countries to produce more would have acted as a shot in the arm for countries struggling with weak growth, the fallout from the US subprime crisis and negative economic factors.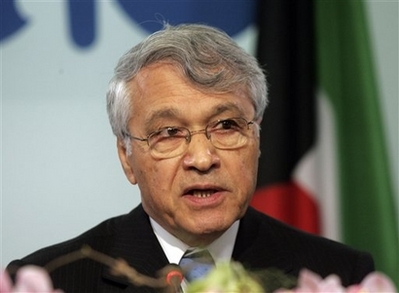 President of the OPEC conference and Minister of Energy and Mines Chakib Khelil from Algeria speaks at a news conference after a meeting of ministers of the Organization of Petroleum Exporting Countries, OPEC, at their headquarters in Vienna, on Friday, Feb. 1, 2008. OPEC oil ministers decided to keep output at present levels because of fears that soft world economies will translate into weakened demand. [Agencies] 
"In view of the current situation, coupled with the projected economic slowdown, the conference decided that current production is sufficient to meet ... demand for the first quarter of the year," an OPEC statement read.
Friday's special meeting was set in December as prices approached $100 per barrel. The 13-nation group considered increasing output to calm volatile markets.
With oil prices high but steady, the focus has shifted to the sputtering US economy with its implications for lessened demand. That and a continued weak dollar, which hurts the purchasing power of OPEC members, has swung sentiment behind maintaining the current output.
OPEC nations argue that market speculation and geopolitical factors have become the key drivers of oil prices. They assert that increasing production beyond the present level of nearly 30 million barrels a day for the 12 members under quotas would be counterproductive because there is enough crude to meet world needs.
"The world should not be concerned about the lack of oil," OPEC President Chakib Khelil told reporters after the meeting. "We are more concerned about the economic crisis and ... its ramifications and impact in the world economy."
The White House responded quickly.
"I think everyone is fully aware that having a reliable and steady and predictable supply of oil is a benefit to the global economy," said White House spokesman Tony Fratto.
"We hope that they understand that their decisions on oil production have a real impact on the economy," he said.
When asked later if OPEC has been dismissive of US lobbying for more production, Fratto said, "I think they do listen to us, and I think they do listen to the market also."
That argument gained some credence following the latest weekly inventory report from the US Energy Department's Energy Information Administration. It said Wednesday that crude and gasoline stocks rose 3.6 million barrels each during the week ended Jan. 25.
But analyst John Hall of John Hall Associates in London said the organization needed to look past its own immediate concerns of maintaining high oil prices.
"If OPEC is concerned about the chances of recession it needs to take whatever action it can take to bring the price down," he said. "All OPEC seems to be saying is, 'if there is a recession, demand will fall way down, and we will need to produce less."'
Oil prices fell, despite the potentially bullish implications of keeping production steady, amid worries of a possible US recession.
Light, sweet crude for March delivery lost 23 cents to $91.52 a barrel in electronic trading on the New York Mercantile Exchange by the afternoon in Europe.
Economic concerns were renewed Thursday after the US Commerce Department reported consumer spending rose in December by 0.2 percent, the weakest performance since June.
Claims for unemployment benefits in the United States jumped by 69,000 last week, the Labor Department said, more than three times what economists expected.
Though current prices appear to have factored in by most economies, a natural catastrophe, or a spike in Middle East tensions could again drive prices above $100 a barrel, as they did early this year.
That, in turn, could ultimately achieve the aim of the United States and other major consumers and drive down the cost of oil -- but only because their failing economies would not be able to afford as much crude.
Qatar's Abdullah bin Hamad al-Attiyah addressed that possibility before the start of Friday's meeting. Looking ahead to the next OPEC ministerial gathering on March 5, he said "all the possibilities are there" -- shorthand for a possible cut in production, if the US economy weakens enough to strip demand.
Analyst Stephen Shork, whose Shork Report looks at energy markets, said that scenario -- a cutback in output in March -- had been strengthened by Friday's decision.
"I believe the producer thinks that the US economy is in recession and they are anticipating a further cutback in demand," he said.
Including Iraq, which is not under quotas, total OPEC output is estimated at about 31.5 million barrels a day -- about 40 percent of daily world demand, which is believed to be around 85.5 million barrels. The formal OPEC 12 output ceiling is around 30 million barrels a day.