Germans are gaga over Barack Obama. He's got Japan pretty jazzed, too, along with Hillary Rodham Clinton. Russia's leaders, not so much: They prefer a Republican as long as it's not Kremlin critic John McCain.
And Mexico's president? He doesn't have much use for any of them.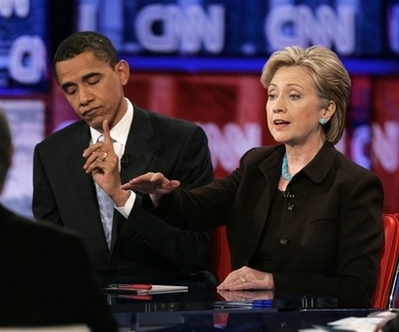 Sen. Barack Obama, D-Ill., left, gestures for time as Sen. Hillary Rodham Clinton, D-N.Y., responds to a question during a Democratic presidential debate in Los Angeles, Thursday, Jan. 31, 2008. [Agencies] 
America's extraordinary presidential campaign has captivated politicians and ordinary people around the globe. With so much at stake in the race for the White House, the world is watching with an intensity that hasn't been seen since the Clinton era began in 1992.
After eight years of President Bush, the latest mantra in US politics "transformational change" is resonating across the rest of a planet desperate for a fresh start.
"They feel there's a real chance to work with the U.S.," said Julianne Smith, a senior fellow at the Washington-based Center for Strategic and International Studies. "America's image in the world is really on the line."
Non-Americans, she said, are looking for someone who can "restore faith in the United States."
Obama, perhaps not surprisingly, is generating most of the buzz abroad.
"Der schwarze Kennedy," some German admirers are calling him: "The black JFK."
"He is young, charming and sexy!" the mass-circulation newspaper Bild gushed. "Obama is now the ideal projection screen for hopes and expectations in Europe" and the US alike, said Christian Hacke, a professor at the University of Bonn.
"I like him. I like his ideas, his attitude, his appearance. I prefer him to Hillary Clinton, who is more artificial," said Eva Berto, a Rome doctor who thinks Obama would bring a new approach to the crisis in Iraq and the nuclear standoff with Iran.
Japanese media are closely tracking both Obama and the woman they refer to simply as "Hillary," and focusing on the possibility that either could make history.
"The idea since the country's founding - 'You can't become president if you're not a white man' has already been destroyed," the Mainichi newspaper said in an editorial.