Paris - They had a glitzy, jet-setting courtship, but when it came time for the wedding, French President Nicolas Sarkozy and former supermodel Carla Bruni opted for a simple, classic ceremony and the bride wore white.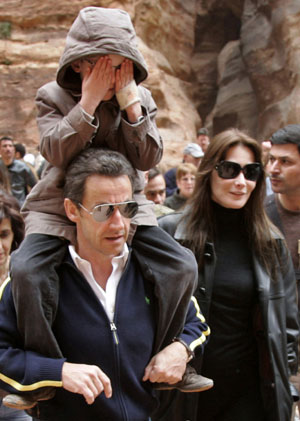 French President Nicolas Sarkozy (L), his girlfriend Carla Bruni (R) and her young son Aurelien (top) visit the ancient Jordanian ruins of Petra January 5, 2008. [Agencies] 
Sarkozy, 53, and Bruni, 40, were married Saturday in a small private ceremony at the presidential Elysee Palace, less than three months after they reportedly first met, and less than four months after his divorce from the previous first lady, Cecilia.
The newlyweds said in a statement only that they tied the knot "in the presence of their families in the strictest privacy." The mayor who performed the ceremony filled in the details.
"The bride wore white; she was ravishing, as usual," Francois Lebel, mayor of Paris' eighth arrondissement, or neighborhood, told Europe-1 radio. The groom wore a suit and tie, and he "wasn't bad either," Lebel said.
About 20 friends and family members attended the 20-minute official ceremony in an Elysee drawing room, Le Bel said. He referred to Sarkozy and Bruni as "young newlyweds" and said the wedding showed "great simplicity and apparently a lot of affection between the spouses."
Under French law, couples must marry before a mayor to make their union official. Usually weddings take place at a city hall, with an official wedding announcement published beforehand, but Sarkozy and Bruni apparently had a dispensation to maintain their privacy.
On a busy day, Sarkozy squeezed the ceremony in amid official business. Addressing a crisis in the former French colony of Chad, where rebels penetrated the capital, Sarkozy also called a meeting at the Elysee Palace and spoke by telephone with Chad's president.
As of Saturday evening, no images of the ceremony had leaked to media. The small wedding contrasted with their highly publicized romance, which surprised many French, accustomed to presidents keeping their love lives under wraps.
At a news conference in January, Sarkozy revealed that his relationship with the blue-eyed singer and former model was "serious" and hinted that wedding plans were in the works, though he did not reveal a date.
Sarkozy and Bruni carried out their courtship in such public locations as Disneyland Paris and the ruins of Petra, Jordan. The tabloids even showed the couple at an Egyptian beach resort, Bruni clad in a tiny black bikini, Sarkozy in trunks, gold chain and Ray-Ban sunglasses.
Sarkozy's approval ratings dropped while they were dating in part, analysts say, because older, more traditional voters were put off by the budding romance and by Sarkozy's glitzy style.
During their courtship, Sarkozy was nicknamed the "bling-bling president" by the media as the couple flew in a private jet borrowed from a billionaire investor and reportedly lavished each other with expensive presents.
Their relationship proved tricky for protocol planners in foreign countries Sarkozy visited. Before a visit to Saudi Arabia, a senior official in the Gulf state urged Sarkozy to respect conservative Islamic culture by leaving his girlfriend at home. She did not accompany him.
Being married will end such concerns.
"First off, he wanted to (tie the knot), and it also helps clarify things," Patrick Balkany, a lawmaker and friend of Sarkozy's, told RTL radio.
Former first lady Bernadette Chirac, congratulating the couple, said being president is easier with the support of a spouse.
Sarkozy was not the first French president to marry in office: Gaston Doumergue tied the knot at the Elysee Palace in 1931.
The wedding was the third for Sarkozy, who has three sons. It was the first for Bruni, an Italian-born heiress whose mother is a concert pianist and whose late father was an industrialist at the head of a tire company, as well as a composer. Bruni grew up in France, where her family fled for fear of the Red Brigades, a left-wing terrorist group active in Italy in the 1970s.
As a young woman, the brunette with high cheekbones had a major modeling career and the love life to go with it. Bruni dated rockers Mick Jagger and Eric Clapton, tycoon Donald Trump and actor Vincent Perez. She has a young son, Aurelien, from a relationship with philosophy professor Raphael Enthoven.
In interviews well before she began dating Sarkozy, Bruni often talked freely of her love life, reportedly telling Madame Figaro magazine that she was "bored to death by monogamy."
Bruni has reinvented herself as a singer in recent years. French news reports have said the Elysee Palace is being fit with a recording studio for the new first lady.