WASHINGTON - Buoyed by cheering crowds and bolstered by more than $1.3 million a day in TV ads, Democrats Barack Obama and Hillary Rodham Clinton raced through the final hours of a Super Tuesday campaign across 22 states. Mitt Romney made a late, possibly last appeal to conservatives to derail Republican front-runner John McCain on the busiest day in primary history.
"We're going to hand the liberals in our party a little surprise," boasted Romney, the former Massachusetts governor, predicting he would score an upset in delegate-rich California.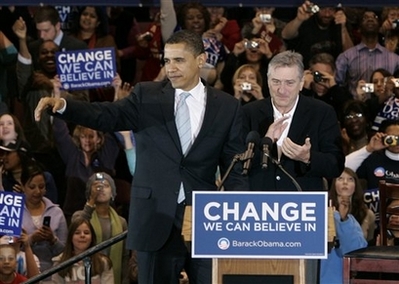 Democratic presidential hopeful Sen. Barack Obama, D-Ill., left, waves as he campaigns with actor Robert DeNiro, right, at rally in East Rutherford, N.J., Monday, Feb. 4, 2008, in the final campaign push before Super Tuesday. [Agencies]
McCain projected confidence Monday, not only about wrapping up the nomination but about next November's general election as well. "I can lead this nation and motivate all Americans to serve a cause greater than their self-interest," he said while campaigning at a fire station in New Jersey.
Unwilling to leave anything to chance, both men hastily rearranged their schedules to make one more late stop in California, the largest state, with 170 delegates.
After months on the road, the wear on the candidates was showing, and the schedules strained human endurance.
Clinton's voice was raspy, and at one stop, she struggled to control her coughing.
Romney had breakfast in Tennessee, was in Georgia at lunchtime, was touching down in Oklahoma at the dinner hour and was scheduled to arrive in California for a rally just before midnight local time.
All before flying through the night so he could attend the West Virginia state convention on Tuesday morning.
The Democrats were spending unprecedented amounts of money on television advertising. Records showed Obama and Clinton each spent $1.3 million last Wednesday and have been increasing their purchases in the days since.
Obama spent about $250,000 to run a 30-second ad during the Super Bowl in selected, less expensive regions. Clinton bought one hour of time on the Hallmark Channel for Monday evening to air a live town hall meeting from New York.
The prize in each race was a huge cache of delegates on the biggest primary-season day ever.
In all, there are 1,023 delegates to the Republican National Convention at stake in primaries in 15 states, caucuses in five and the West Virginia state convention.
Several award all their delegates to the winner, and McCain was favored in New York, New Jersey, Connecticut, Delaware and his home state of Arizona, with 251 delegates combined.
Romney hoped to counter with victories in Utah and West Virginia, as well as in a string of caucuses in Western and Midwestern states.
But his task in several Southern and border states — Arkansas, Alabama, Georgia, Oklahoma and Missouri — is complicated by the presence of Mike Huckabee on the ballot.
The former Arkansas governor was in Tennessee, where he said that Wal-Mart Republicans knew long before Wall Street that the economy was headed for trouble. "They were paying more for their fuel and more for their health care and their kids' education, but their paychecks weren't going up enough to cover all those things that were costing more," he said.
In sheer numbers, Democrats have more at stake than Republicans — 15 primaries, and caucuses in seven states plus American Samoa, and 1,681 delegates.
They also lack a clear front-runner in the historic race between Clinton, who is trying to become the first woman to sit in the White House, and Obama, seeking to become the first black commander in chief.