LOS ANGELES -- Former New York City Mayor Rudy Giuliani on Wednesday officially ended his presidential candidacy here and endorsed Arizona Senator John McCain for the Republican nomination.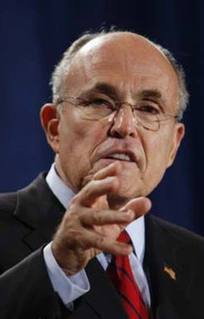 Republican former New York Mayor Rudy Giuliani talks to his supporters after conceding the Florida Primary Election in Orlando, Florida Jan. 29, 2008. [Xinhua]
Giuliani made his announcement one day after being trounced in the Florida primary, and two hours before he was scheduled to participate with McCain and three other Republicans in a debate at the Ronald Reagan Presidential Library near Los Angeles.
"I made it clear at different times of this campaign that the one other person that I support for president of the United States was John McCain," he said. "If I endorsed anyone else, you would accuse me of flip-flopping."
The Giuliani endorsement comes as speculation swirls that California Governor Arnold Schwarzenegger, who is a Republican, will endorse McCain, possibly as early as Thursday.
McCain, appearing with Giuliani at the Reagan Library, thanked the former New York City mayor and called Guiliani his friend.
Giuliani said that the Arizona senator was the most qualified candidate to lead the country, also referring to him as "an American hero" who shares his vision for the Republican Party.
McCain would be joined at the debate, the Republicans' second in seven days, by former Arkansas Governor Mike Huckabee, Texas congressman Ron Paul and former Massachusetts Governor Mitt Romney.
McCain drew scorn from some fellow Republicans last year and sank in the polls for his support of legislation that would have liberalized immigration laws. Political observers say that the bill's failure has helped McCain.
McCain became the front-runner in what had been a wide-open race with Tuesday's victory in the Florida primary. The nominee is likely to be decided on coming Tuesday when 20 states, including California, hold primaries and caucuses.
Meanwhile, the Democratic candidates will debate Thursday at the Kodak Theatre in Hollywood.