TINLEY PARK, Ill. - Five females were shot to death at a suburban Chicago clothing store on Saturday, and police were searching for a man they said fled the scene.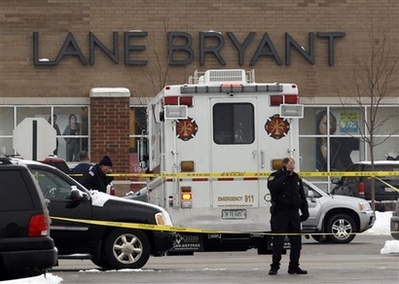 Police investigate the scene shooting in front of Lane Bryant store at the Brookside shopping center in Tinley Park, Ill., February 2, 2008. [Agencies] 
The victims were shot and killed at a Lane Bryant store at the Brookside Marketplace, police Sgt. T.J. Grady said. Officers found the victims inside after getting a 911 call around 10:45 am, Grady said.
Earlier, Grady said "the offender" had apparently left the cluster of stores off Interstate 80 in the suburbs southwest of downtown Chicago.
"No motive has been established," Grady said. "Every store was immediately canvassed and a search by air too has given us every indication that the offender has left the scene."
The store was open at the time of the shootings. Grady declined to say whether the victims were customers or employees. He gave no ages and said authorities are still trying to reach the victims' families.
Police were allowing some shoppers into parts of the strip mall later Saturday, but had cordoned off the store.
Tracy Caccavella was shopping at a Pet Smart store late Saturday morning across the parking lot from the Lane Bryant when she saw police enter the pet supply store.
"Six police entered the store with their hands on their gun holsters," Caccavella said.
The Cook County Sheriff's Department was helping with the investigation, providing a helicopter and K-9 patrol unit Saturday, spokeswoman Penny Mateck said.
The small red and brown brick Lane Bryant is part of a cluster of four or five stores isolated on one side of a large blacktop parking lot, with big box stores including Target and a Best Buy several hundred yards away.
Two large county vans backed up to the front of the building Saturday afternoon and a white canopy was placed over the front of the building.
Messages left at Lane Bryant Brand headquarters were not immediately returned.