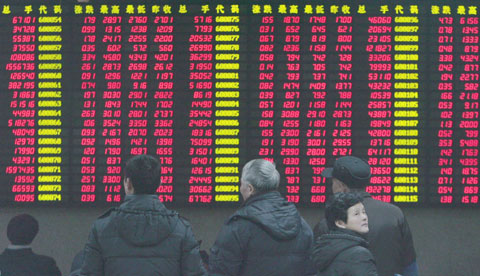 Investors look at an electronic board showing stock information at a brokerage house in Nanjing, Jiangsu province, February 4, 2008. China's main stock index jumped more than 8 percent on Monday in its biggest daily rise since June 2005. [Agencies]
SHANGHAI - Chinese stocks surged Monday as news of bullish government comment on the economy calmed investor jitters over economic policy and winter storms.
The benchmark Shanghai Composite Index gained 8.13 percent, or 351.40 points, to close at 4,672.17. The Shenzhen Composite Index of China's second, smaller market jumped 7.95 percent to 17,031.67.
The rebound followed a bleak spell that took the Shanghai benchmark to a six-month low last week, nearly 30 percent below the record high of 6,124.04 that it hit in mid-October.
Among top gainers, Aluminum Corp of China surged by the daily 10 percent limit to 32.34 yuan after announcing late Friday that is has acquired, along with US partner Alcoa Inc., a 12 percent stake in Rio Tinto PLC, the London-traded unit of the British mining giant.
China's major newspapers carried front-page statements by top economic officials downplaying the likely impact of the winter storms, despite widespread power outages and snarled road and rail traffic in some regions.
News that credit policies may be eased and two new stock funds have been approved also lifted Chinese shares.
"There's no need to worry. The losses will be recovered and investors should not worry," the China News Service quoted Li Rongrong, chairman of the agency in charge of big corporations, as saying.
Zhu Hongren, deputy director of the National Development and Reform Commission _ the country's top economic planning body - emphasized that damages and losses were confined to only some parts of southern and central China.
"The fairly severe disaster did not affect the whole country," the China Business News cited Zhu as saying.
"Even though the impact on industry is evident, the impact on the entire economy is limited," Zhu said.
So far, official estimates put the damage from the storms at 53.8 billion yuan (US$7.5 billion; euro 5 billion). Last week, the government ordered banks in regions affected by the storms to relax limits on lending, also reassuring investors worried over inflation-fighting credit tightening policies.
The market was further boosted by news that the China Securities Regulatory Commission had approved two new stock funds - raising the likelihood of fresh flows of cash into the markets.
CCB Principal Asset Management Co. and China Southern Fund Management Co. are due to raise a total of about 14 billion yuan (US$2.0 billion; euro 1.3 billion) later this month, the Xinhua News Agency reported.