China's money and credit growth will slow this year as the central bank implements a battery of tightening measures to achieve its primary goal of taming inflation, a senior central bank official said on Sunday.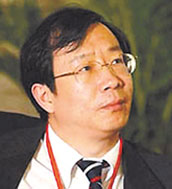 Yi Gang. [file]
Yi Gang, vice governor of the People's Bank of China , told a financial forum that growth in the broad M2 measure of money supply would ease to around 16.0 percent from 16.7 percent in 2007.
Consumer inflation hit an 11-year high of 7.1 percent in January, prompting concerns that price pressures could spread from specific products such as meat and edible oils to the broader economy.
Yi said the central bank would not back off from the shift it declared in December to a "tight" monetary policy from a "prudent" stance, even though domestic and global economic risks had grown since then.
Yi said the deepening of the fallout from the US subprime mortgage crisis and the devastating snow storms that hit much of central and southern China in late January had made the policy-making environment more complex.
Related readings:



 Nation faces increasing inflation risk


 Hopes for credit ease fade as inflation jumps


 CPI rises 7.1%, highest in 11 years


 WB cuts China 2008 GDP growth to 9.6%


Slow down in GDP a healthy sign


GDP expands 11.4 percent, fastest in 13 years
"But taking into consideration all of these changes, we still think inflation is our biggest threat and we should spare no effort to tame prices," he said.
"In 2008, we will keep implementing a tight monetary policy by adopting open market operations, using bank reserve ratios and guiding banks to extend loans in a reasonable fashion," Yi said.
"We will stick to such a policy no matter how the domestic and international conditions change."
He said he expected gross domestic product to grow by around 10.0 percent this year, compared with 11.4 percent in 2007. The International Monetary Fund has also pencilled in 10 percent growth, through some private economists are less optimistic.
Yi's estimate of 16 percent M2 growth this year is the most concrete target for money growth from the central bank so far.
He said loan growth would probably slow this year too. Domestic currency lending expanded by 16.1 percent in 2007.
"This framework is exactly what a tight monetary policy means," he said of the expected slowdown in M2 and lending.
In its latest monetary policy report, released on Friday, the PBOC said it would step up use of the yuan's exchange rate to help bring better balance to the country's international payments and the domestic economy.
Yi made no specific reference to the yuan, but his focus on inflation largely echoed that of Friday's report.
The central bank let the currency reach 7.1413 per dollar on Thursday, the highest level since it scrapped a dollar peg in July 2005 and allowed it to float in managed bands.