HAVANA -- Cuban army general Raul Castro was elected on Sunday as president of Cuba during a legislative session held at Cuba's Palace of Conventions in the nation's capital Havana.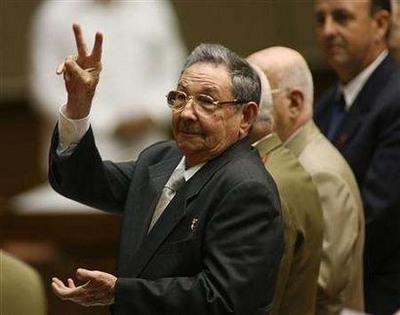 Raul Castro, who has been running Cuba since his brother Fidel was sidelined by illness 19 months ago, gestures during a meeting of the National Assembly in Havana Feruary 24, 2008. [Agencies]
In his speech, Raul vowed to be on guard against US "meddling " as he took power from his brother Fidel Castro.
"We have taken note of the offensive and openly meddling declarations by the empire and some of its closest allies," the new Cuban leader said.
Related readings:


 Castro's quit 'wise, self-giving' - Cuban leaders


 Fidel Castro rebuts US call for change in Cuba


 Fidel Castro quits as Cuban president


 US says Cuban embargo to remain despite Castro's resignation


 Castro expects to die in 2006
Raul, 76, officially replaced his brother Fidel Castro, 81, who had handed power provisionally to Raul on July 31, 2006 due to a severe intestinal illness, from which he is still recovering.
Sunday's session began with the swearing of 597 deputies, out of a total of 614 elected in January.
The session began at 10 am local time (1500 GMT) under the aegis of Maria Ester Reus, head of the National Electoral Commission who is also the nation's justice minister.
During this session, the Cuban National Assembly of People's Power also chose the nation's Council of State, a 31-strong body which will govern Cuba for five years. This council in turn elected a president, who is also the leader of the nation.
The council is made up of a president, a vice president, five junior vice presidents and 23 members.