LOS ANGELES: Hollywood's biggest stars took a backseat at the Oscars as four Europeans and the maverick Coen brothers grabbed the top honors with films that won critical acclaim but only modest box-office success.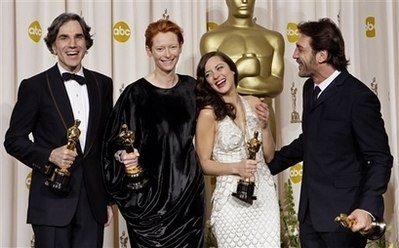 From left, British actor Daniel Day-Lewis poses with the Oscar for best actor for his work in 'There Will Be Blood,' British actress Tilda Swinton poses with the Oscar for best supporting actress for her work in 'Michael Clayton,' French actress Marion Cotillard poses with the Oscar for best actress for her work in 'La Vie en Rose,' and Spanish actor Javier Bardem poses with the Oscar for best supporting actor for his work in 'No Country for Old Men' at the 80th Academy Awards Feb. 24, 2008, in Los Angeles. [Agencies]
The violent drama No Country For Old Men won four Academy Awards on Sunday (yesterday, Beijing time), more than any other film, including best movie, director and adapted screenplay for brothers Joel and Ethan Coen.
The film's fourth award, for best supporting actor, went to Spain's Javier Bardem for playing a killer of few words. It was the first Oscar for a Spanish performer in the 80-year history of the world's premier cinema awards.
Briton Daniel Day-Lewis won for best actor in There Will Be Blood as an oil prospector in the early 20th century whose rise to wealth and power comes at a deep cost to his soul. He was favored for an Oscar after winning a series of other awards for the role.
Tilda Swinton, another Briton, was the surprise winner of the supporting actress honor as a shifty lawyer in the legal thriller Michael Clayton. Australia's Cate Blanchett had been the favorite for portraying Bob Dylan in I'm Not There.
France's Marion Cotillard was named best actress for portraying singer Edith Piaf in La Vie en Rose - the first French woman to win the award since Simone Signoret in 1960.
The victories also marked the first time since 1964 that the top four acting awards went to artists from outside the United States, where the Academy of Motion Picture Arts and Sciences is based.
"There were also wonderful performances by American actors that could equally have been recognized," Day-Lewis said backstage. "I suppose it's a phenomenon, but I don't know if it serves any purpose to focus on that."
In the end, it was the Coen brothers, born and raised in Minnesota, who proved to be the big winners. Their movie, based on Cormac McCarthy's novel about a drug deal gone wrong in south Texas, speaks of the moral decline of society and was among four somber films up for best picture.
The Coens, who won an Oscar for writing the idiosyncratic 1996 crime caper Fargo, have long worked outside the traditional Hollywood studio system.
No Country For Old Men has been the most commercially successful of their 12 feature films, although with relatively modest sales of $64 million at North American box offices.
Austrian Holocaust-era drama The Counterfeiter won the Oscar for best foreign language film. Directed by Stefan Ruzowitzky, it was the first win for Austria in the category.
In other key categories, best animated film went to box office hit Ratatouille about a friendly rat who becomes a chef in a Parisian kitchen.
Stripper turned writer Diablo Cody won the best original screenplay award for the hopeful teen pregnancy comedy Juno.
Despite the talk of dark and pessimistic movies at this year's Oscars, many winners offered statements of optimism.
Perhaps the most inspiring came from Marketa Irglova who, along with Glen Hansard, won for best original song with the tune Falling Slowly from the low-budget movie Once. Until the film won over audiences, Irglova and Hansard were unknown.
"This is just proof that no matter how far out your dreams are, it's possible," said Irglova. "This song was written from a perspective of hope and hope connects us all."