SEOUL, South Korea -- Hard-charging former businessman Lee Myung-bak became South Korea's new president Monday with a mandate to boost the economy and take a tougher line on nuclear-armed North Korea.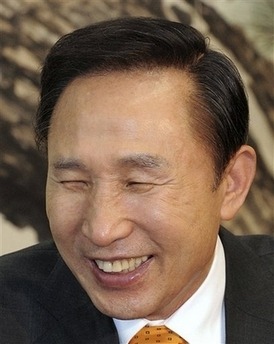 South Korean President-elect Lee Myung-bak smiles during a meeting with former Indian President Abdul Kalam at his office in Seoul, Sunday, Feb. 24, 2008. [Agencies]
The conservative, pro-US Lee, nicknamed "The Bulldozer" for the can-do image he honed as a construction company CEO and later as mayor of Seoul, was to take the oath of office amid a booming artillery salute at the National Assembly at 11 am (0200 GMT).
Tens of thousands of officials and ordinary citizens were to attend the inauguration. Foreign dignitaries including US Secretary of State Condoleezza Rice and Japanese Prime Minister Yasuo Fukuda were also to take part.
His single five-year term, succeeding predecessor Roh Moo-hyun, officially began at midnight (1500 GMT Sunday).
Lee, the 10th man to be South Korea's president and the first to come from a business background, overwhelmingly won December's election on a promise to make the economy his top priority.
He has promised to achieve annual growth of 7 percent, and over a decade double the country's per capita income to US$40,000 (euro27,000) and make South Korea one of the world's top seven economies.
Highlighting the key numbers in each of these goals, he has called this his "747" pledge, meant to evoke a soaring jumbo jet.
Related readings:


 Lee has bold vision for ROK economy


 Lee cleared of fraud allegations


 Lee decides not to scrap unification ministry


 President-elect Lee names Cabinet


 President-elect Lee willing to meet Kim
To realize the goal, Lee, 66, says he will slash regulations, initiate tax reforms, streamline government and draw in more foreign investment. South Korea's economy grew 4.9 percent last year and 5 percent the year before, but Lee says it has underperformed.
Just days ahead of the inauguration, special prosecutors cleared Lee on Thursday of various allegations, including that he was involved in a 2001 stock price manipulation case.
Though Lee has vowed to broadly continue Seoul's policy of detente with the North, he says he will pursue it with a more critical eye. His liberal predecessors - Roh and Kim Dae-jung - gave unconditional aid and concessions as part of reconciliation efforts.
Lee also wants to use his business-oriented mind-set for dealing with North Korea.
He says if leader Kim Jong Il abandons his nuclear programs, his government will launch massive investment and aid projects in the impoverished North to increase its per capita income to US$3,000 (euro2,000).
Lee also says he will bolster Seoul's ties with the US - which sometimes showed signs of fraying under Roh - to help resolve the nuclear issue.
International talks on North Korea reported significant progress last year after Pyongyang shut down its main nuclear reactor and began disabling key atomic facilities.
The talks, however, have not been held since October due to a dispute over whether Pyongyang kept its promise to declare all its nuclear programs by the end of December.
South Korea's political transition comes amid an easing of tensions between the US and North Korea.
In a high-profile sign of that thaw, the New York Philharmonic orchestra was to perform in Pyongyang on Tuesday, becoming the first major US cultural group to travel to the country since the Korean peninsula's division six decades ago.
The Japan-born Lee first gained prominence as head of the massive Hyundai conglomerate's construction unit, which helped build South Korea during its miraculous economic rise in the 1960-70s. He became CEO at age 35.
He later left the boardroom to enter politics as a national legislator in 1992 but was forced to step down for violating campaign spending limits.
Lee left for the US to work as a guest researcher at Georgetown University in Washington.
In 2002, Lee was elected as Seoul mayor and won praise for restoring a long-paved-over scenic stream to create a popular landmark in the heart of the congested city of 10.4 million people.
He won the December 19 presidential election, defeating the closest opponent by 22.6 percentage points - the largest margin since democratic elections were restored in South Korea in 1987.