HAGATNA, Guam - A B-2 stealth bomber crashed at an air base on Guam but both pilots ejected safely and were in good condition, the Air Force said.
Thick black smoke could be seen billowing from the wreckage at Andersen Air Force Base, said Geanne Ward, a resident in the northern village of Yigo who was on the base visiting her husband.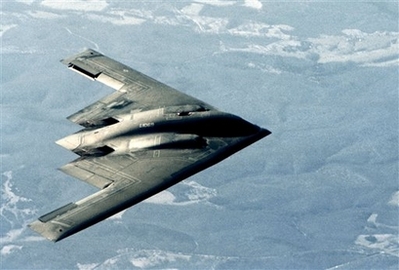 In this photo provided by the US Air Force a B-2 bomber is seen during a training exercise near McGuire Airforce Base, N.J., in this March 23, 2001 photo. [Agencies]
Ward said she didn't witness the crash but noticed a rising plume of smoke behind the base's air control tower.
She said crowds began to gather as emergency vehicles arrived Saturday morning local time.
"Everybody was on their cell phones, and the first thing everyone wanted to know was did the pilots make it out in time," she said.
A board of officers will investigate the accident.
Each B-2 bomber costs about $1.2 billion to build. All 21 stealth bombers are based at Whiteman Air Force Base in Missouri but the Air Force has been rotating several of them through Guam since 2004, along with B-1 and B-52 bombers.
The rotations are designed to boost the U.S. security presence in the Asia-Pacific region while other US forces diverted to fight in the Middle East.
The B-2 bomber can evade most radar signals making it difficult for defensive systems to detect, track and attack. It has a range of 6,000 nautical miles (9,600 kilometers) without refueling, according to the Air Force. The B-2 bombers have been used for missions in Afghanistan, Iraq and Serbia.
The accident occurred 11 days after a Navy plane crashed into the ocean about 20 miles northeast of Guam's Ritidian Point. Four aircrew members ejected from the EA-6B Prowler electronic warfare aircraft and were rescued by helicopter.
Guam is a US territory 3,700 miles southwest of Hawaii.