NEW YORK -- The worst snowstorm in two years hit New York on Friday, dumping more than 6 inches (15.24 cm) of snow in the largest US city, snarling land traffic and causing hundreds of flight cancellations and delays at area airports.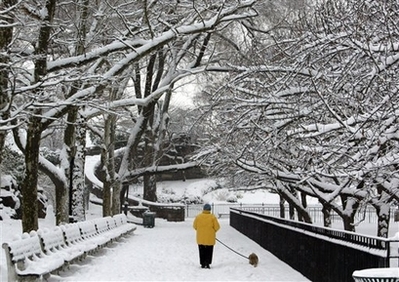 A pedestrian walks her dog through Carl Schurz Park, near Gracie Mansion, in New York's Upper East Side neighborhood Friday, Feb. 22, 2008. A snowstorm blanketed New York City early Friday, causing headaches for commuters and delaying flights at the region's major airports. [Agencies]
Schoolchildren, who were on their week-long winter break that ends Friday, had added joy when the city offered free sleds and hot chocolate in five parks, one each in five boroughs. Park Rangers would also teach revelers how to find animal prints in the snow.
Friday's snowfall broke the daily record of 5.7 inches 14.48 cm set in 1948, local television station TV1 reported.
The snow started earlier than anticipated and was heavier than expected, resulting in multiple snow centers. Meteorologists forecast icy conditions into mid-day Saturday, with temperatures hovering around the freezing mark.
Mayor Michael Bloomberg urged New Yorkers to avoid road travel as much as possible but use caution and wear seat-belts if they do decide to venture out and drive.
"It is slippery, even if it looks clear. Wear seat belts, drive slowly," Bloomberg told a press conference.
To help cope with a spike in calls to the city's 311 hotline, Bloomberg announced hiring of temporary workers at 12 US dollars an hour at the call center.
The impact of the snowstorm, which caused delays of up to five hours and cancellations of more than 900 flights at the three airports in the greater New York area during the day, appeared to be easing somewhat late Friday afternoon.
At 5 p.m., the John F. Kennedy International Airport reported an average delay of one hour and two minutes for arriving flights, and La Guardia Airport, 33 minutes.
Hundreds of accidents were reported in the region, and one man in neighboring Connecticut was killed in a snow-related car crash.
According to the National Weather Service Forecast Office in Upton, New York, evening commute in the city could become even more treacherous as precipitation changes to a mixture of snow and fleet, creating a coating of ice accumulation.