Super Tuesday showdown begins in 24 states
(Agencies)
Updated: 2008-02-05 22:59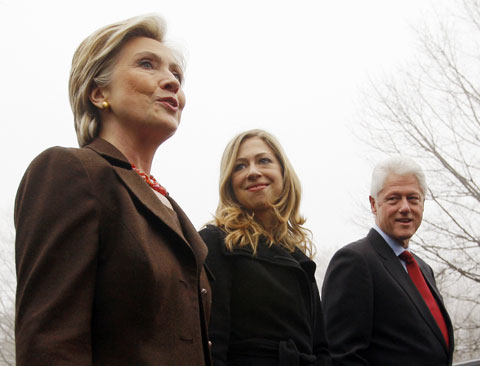 Democratic presidential candidate US Senator Hillary Clinton (D-NY), her husband former US President Bill Clinton and their daughter Chelsea leave the polling place after voting in the New York primary election at the Douglas Grafflin Elementary School in Chappaqua, New York February 5, 2008. [Agencies]
WASHINGTON - The biggest day ever in US presidential nominating contests began on Tuesday, with Democrats Barack Obama and Hillary Clinton in a close fight and Republican John McCain aiming for a knockout blow against Mitt Romney.

Twenty-four of the 50 states hold nominating contests for one or both parties on "Super Tuesday" for a huge haul of delegates to this summer's nominating conventions to choose the candidates for the November presidential election.

Clinton, a New York senator, tried to hold off a late surge by Obama, an Illinois senator who has cut into her once commanding leads in opinion polls nationally and in some states in the coast-to-coast voting.

"The fact that we've made so much progress I think indicates that we've got the right message, and the question is are we going to be able to pull some states out," Obama said on NBC's "Today Show."

"No matter what happens though, we're probably going to see a split decision tonight," Obama said.

More than half of the total Democratic delegates and about 40 percent of the Republican delegates are up for grabs on Tuesday. Georgia is the first state to end voting at 7 p.m. EST (2400 GMT), although West Virginia Republicans will make their choices at a convention earlier in the day.

Opinion polls show a tight Democratic race in many states, but a Reuters/C-SPAN/Zogby poll showed Obama opening a 13-point lead on Clinton in California, which alone has 441 delegates to the nominating convention -- more than one-fifth of the total needed to win. California polls close at 11 p.m. EST (0400 GMT).

Among Republicans, McCain had solid leads in most of the big battleground states. But McCain, an Arizona senator, and Romney, a former Massachusetts governor, changed their plans so they could make late dashes to California, where opinion polls showed a tighter contest.

"We wanted to come back and put an exclamation point on the kind of support I'm getting here," Romney told reporters in California late on Monday night.

A new Reuters/C-SPAN/Zogby poll showed Romney up by 7 points in California, although McCain held commanding double-digit advantages in New York and New Jersey.

Clinton and Obama, who had split the first four significant contests, used Monday to hunt for support in delegate-rich Northeast states. Both campaigns spent heavily on final advertising sprees from coast to coast.

Clinton voted in suburban New York, accompanied by her husband former President Bill Clinton, after appearing on several morning television shows.

"None of us really understands what the impact of all these contests on one day will be for for any of us," she said on ABC's Good Morning America.

With Clinton and Obama running close, aides tried to lower expectations and predicted a lengthy battle extending to Ohio and Texas in March and Pennsylvania in April.

Because Democrats distribute delegates in proportion to their vote statewide and in individual congressional districts, candidates can come away with large numbers of delegates even in states they lose.

1
2

Most Commented/Read Stories in 48 Hours