WASHINGTON - Barack Obama won the Georgia primary Tuesday night, the leading edge of a coast-to-coast struggle with Hillary Rodham Clinton for delegates in the grueling Democratic presidential campaign. Arizona Sen. John McCain challenged his remaining rivals for control of the Republican race.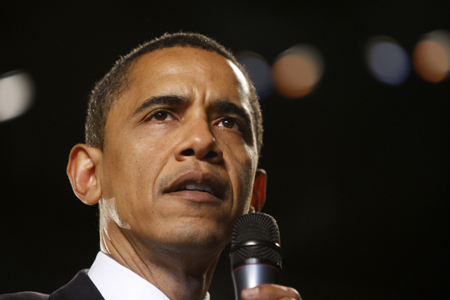 US Democratic presidential candidate Barack Obama campaigns at a rally in Boston, Massachusetts, February 4, 2008, on the eve of the "Super Tuesday" primaries. [Agencies] 
It was Obama's second straight Southern triumph, and like an earlier victory in South Carolina, was built on a wave of black votes.
The Associated Press made its call based on surveys of voters as they left the polls.
The 87 delegates at stake in Georgia's primary were divided between the two candidates in rough proportion to the votes.
After an early series of low-delegate, single-state contests, Super Tuesday was anything but - its primaries and caucuses were spread across nearly half the country in the most wide-open presidential campaign in memory.
Overall, Clinton was winning only a slight edge among women and white voters, both groups that she has won handily in earlier contests, according to preliminary results from interviews with voters in 16 states leaving polling places. Obama was collecting the overwhelming majority of votes cast by blacks, and Clinton was gaining the votes of roughly six in 10 Hispanics.
In Georgia, blacks cast slightly more than half the votes, and Obama was winning nearly a 90 percent share of those. Clinton was supported by nearly six in 10 white voters, according to the exit polls.
In the GOP race, McCain had a small edge among voters calling themselves Republicans, a group he had not won in any of the earlier races. As usual, he was running strongly among independents. Former Massachusetts Gov. Mitt Romney was getting the votes of about four in 10 people who described themselves as conservative. McCain was wining about one-third of that group, and former Arkansas Gov. Mike Huckabee about one in five.
Democrats and Republicans alike said the economy was their most important issue. Democrats said the war in Iraq ranked second and health care third. Republican primary voters said immigration was second most important after the economy, followed by the war in Iraq.
The survey was conducted in 16 states by Edison Media Research and Mitofsky International for The Associated Press and television networks.
McCain was the Republican front-runner, all but unchallenged in winner-take-all primaries in New York, New Jersey and Connecticut. He looked for a home-state win in Arizona, as well.