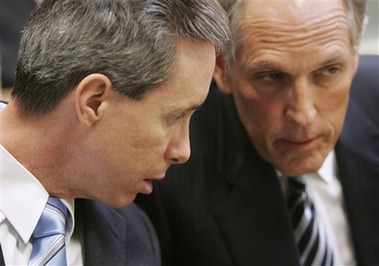 Warren Jeffs, left, confers with defense attorney Richard Wright after the verdicts against him were read Tuesday, Sept. 25, 2007, in St. George, Utah. [AP]
ST. GEORGE, Utah - The leader of a polygamous Mormon splinter group was convicted Tuesday of being an accomplice to rape for forcing a 14-year-old girl to marry her 19-year-old cousin.
Warren Jeffs, 51, could get life in prison after a trial that threw a spotlight on a renegade community along the Arizona-Utah line where as many as 10,000 of Jeffs' followers practice plural marriage and revere him as a mighty prophet with dominion over their salvation.
Jeffs stood and, like his 15 followers in the courtroom, wore a stoic look as the verdict was read.
Prosecutors said Jeffs, who performed the ceremony, forced the girl into marriage and sex against her will. Jurors said they agreed Jeffs rejected the girl's pleas and refused to release her from the marriage.
"He was pretty much her only ticket out of the relationship," said juror Jerry Munk, 36.
Defense attorney Wally Bugden, who told jurors that Jeffs was a victim of religious persecution, declined to comment.
The jury deliberated about 16 hours over three days. On Tuesday morning, the judge replaced a juror with an alternate for undisclosed reasons.
While polygamy itself was not on trial - the couple were monogamous - the case focused attention on the practice of polygamy in Utah, where it has generally been tolerated in the half-century since a government raid in 1953 proved a public relations disaster, with children photographed being torn from their mothers' arms.
Jeffs succeeded his father in 2002 as president of the Fundamentalist Church of Jesus Christ of Latter Day Saints. Former members say he rules with an iron fist, demanding perfect obedience from followers and exercising the right to arrange marriages as well as break them up and assign new spouses.
"This trial has not been about religion or vendetta. It was simply about child abuse and preventing abuse," the victim, now 21, said in prepared remarks after the verdict.
"The easy thing would have been to do nothing, but I have followed my heart and spoken the truth," she said, declining to take questions from reporters.