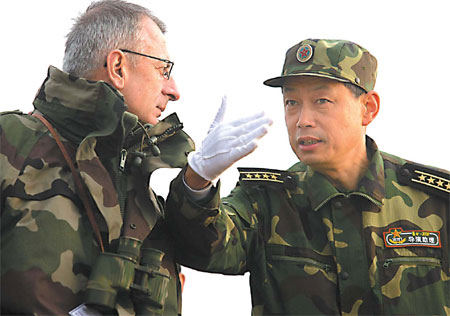 Assistant Director of "Warrior 2007" Li Xiangdong chats with a foreign observer during the military exercises in Taonan, Jilin Province, Tuesday. The drill is being attended by 55 foreign observers. It started on Sunday and will end tomorrow. [China Daily] 
TAONAN, Jilin Province: Rudi Wertheim, defense attache at the British embassy in Beijing said Tuesday how impressed he had been by the use of laser animations in combination with live action at the "Warrior 2007" exercises.
"Chinese military building is going in a sensible direction," he said, noting the laser animation technology was a useful aid in the training of soldiers for real combat.
Wertheim said he was happy to see the rapid development of the People's Liberation Army (PLA), in comparison to a drill he observed two years ago in North China's Inner Mongolia Autonomous Region.
The British army officer's feeling was shared by his counterparts from 35 countries, who were invited on Tuesday to view the PLA's regular drill.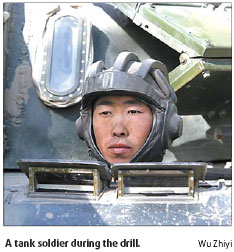 Involving more than 10,000 troops, it was a live ammunition drill conducted by a motorized infantry division at the Taonan Training Base under the Shenyang Military Area Command of the PLA.
Colonel Brinkmann Kay, acting chief of Staff of the German Army's 13th Mechanized Infantry Division said being able to see the exercise helped him get an idea of how professional the Chinese military forces are.
The 45-year-old colonel was most interested in seeing how the Chinese military presented its intentions to the international community.
"We can see now that we are aiming at the same goal, which is a stable and peaceful world. Besides watching, we have had a chance to talk and exchange views and I think we are on the right track," he said.
Kay said he kept an open mind on his trip to the exercise, particularly as this was his first visit to China.
"It is very impressive and I would like to have more such opportunities," he said.