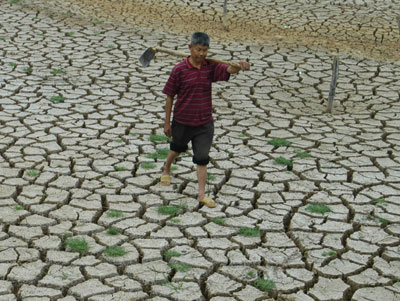 A villager walks on a dry land in Mianyang, Southwest China's Sichuan Province June 6, 2007. [newsphoto]
The Sichuan Basin in Southwest China has been called a "cold center" by the Ministry of Science and Technology, even though the Earth's surface temperature has increased about 0.6 degree in the past century.
As the Earth warms, scientists have found "no significant sign" of a temperature increase in the basin, which is about three times the size of the UK and borders the Qinghai-Tibet Plateau.
But that doesn't mean Sichuan Province and neighboring Chongqing Municipality, where more than 110 million people live, are climate-change-free zones. Instead, extreme weather events, a scorching drought last year and devastating flash floods this summer have made climate change a life-or-death matter for residents, especially for millions of poor people and local farmers.
Living at the basin's northeast rim, the 34-year-old newly widowed Zhao Xiuhua witnessed several devastating scenes this summer.
Zhao has survived a flood spilling from a reservoir overhead while trapped between a pipe and a wall for six hours in the poverty-stricken Tongjiang County in sichuan. Before dawn on July 2, her husband He Qiang, 31, daughter He Qian, 10, and son He Hongxiang, 7, were killed in the flash flood caused by storms roaring through the mountainous county. There is still no sign of her little son's body.
"I lost my family, my home has become debris, and I have no hope of life," sobbed Zhao. Before the disaster, she and her husband earned their living by peddling local snacks from early morning to late at night on the town's bumpy road.
"It's horrifying and sad," said Wang Yong, the county's disaster relief official, adding that the downpour was the heaviest since the country started to keep weather records in 1959.
Floods have swept away nearly all of Zhao's property and she had to move in with her brother. She didn't realize her losses were linked to climate change and Himalayan glacial melting.
The family of 43-year-old Li Caiqiong was lucky. When the avalanche of falling stones hit her five-room house halfway down a mountain in the county's Yangbai Township, she and her husband were working in Beijing and their kids were in school. Now, Li is back in her hometown to rebuild her house.
"All the property inside was destroyed, and we have to start from scratch," said Li.
Local builders said reconstructing a five-room house in the county costs 50,000 yuan on average. In many rural areas property insurance doesn't cover the cost of rebuilding. The government offers just one-fifth of that in aid. "We have to borrow the rest and work around the clock to pay it off," Li said.
The catastrophe caused massive landslides, which killed at least 20 farmers in a village a dozen kilometers from town. The county has been included in China's list of 592 poorest, out of roughly 2,800 in total.
About 1,000 households were severely hit by the downpours, floods and landslides. Many became homeless. "People have become even poorer, and the government's coffers have become even tighter," said official Wang.
Statistics indicate that economic losses in Tongjiang totaled more than 400 million yuan, but aid from the central government was 10 million yuan. "Some families will take years to recover," said Wang.
In Sichuan this summer, thunderstorms and flash floods killed 69. Twenty-three people are still missing and 24 million have been affected by the disasters. Direct economic loss amounted to 7.8 billion yuan.
Last summer, Sichuan was plagued by its most severe drought since 1951, and its neighbor, Chongqing Municipality, was ravaged by the worst drought in a century, leaving more than 17 million people with drinking water shortages.
This summer, Chongqing has been hit by the worst downpour and flooding in a century. Experts are blaming the freak weather conditions on global warming. The death toll reached 80 by the end of July; one of three residents has been affected by the floods.
Sichuan and Chongqing are not alone. More than 700 people this year have been killed in floods, landslides, mudslides and storms across 24 provinces, and 82.05 million have been affected, according to the Ministry of Civil Affairs.
International organizations and domestic scientists attribute the disasters to climate change mainly caused by human activity. The most evident example is in the Himalayan glacial area, which has shrunk by 20 percent over the past century.
Kerry Brown, an associate fellow with the London-based think tank Chatham House, says China's poor are the least able to protect themselves against the impact of environmental degradation and climate change.