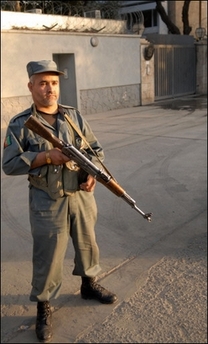 A guard stands in front of the Italian Embassy in Kabul Sept. 24, 2007. [AFP]
Rome -- Two Italian soldiers kidnapped in Afghanistan last week were freed in a raid by NATO-led forces early on Monday, Italy's Defence Ministry said.
"In a raid by ISAF forces in the early hours of the morning the two soldiers who had been kidnapped last Saturday have been freed in the province of Farah," the ministry said in a statement, referring to the NATO-led International Security Assistance Force.
The soldiers were wounded during the raid to free them, one of them seriously, the ministry said, adding that they had been taken to a hospital.
Italy has some 2,200 troops in Afghanistan. More than 600 are in western Afghanistan running the regional ISAF command.
The ministry had said late on Sunday that it believed the two had been abducted while on patrol, together with two Afghans.
Since Saturday, it had lost contact with the two soldiers, who were operating in the Shindand district in the Herat province and were responsible for relations with civil authorities.