ST. GEORGE, Utah - The leader of the largest U.S. polygamist sect who arranged a marriage between a 14-year-old girl and her 19-year-old cousin, told the girl it was her religious duty to give herself "mind, body and soul" to her husband, a Utah court heard on Thursday.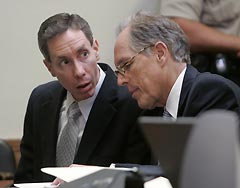 U.S. polygamist sect leader Warren Jeffs (L) talks with his attorney, Richard Wright, during a motion hearing before the start of his trial in St. George, Utah September 13, 2007. [Reuters]
In opening statements at the trial of Warren Jeffs, 51, prosecutors said the "prophet" of the breakaway Mormon clan was an accomplice to two counts of rape after orchestrating a 2001 marriage between the girl and her cousin.
"(The accuser) will testify she got down on her knees and begged -- 'He's my first cousin, I think I'm too young, I don't want to be rebellious but can't we find someone else or postpone it?'" prosecutor Brock Belnap told jurors.
"What Warren Jeffs told her is: 'Your heart is in the wrong place. This is your mission and duty to do'," Belnap added.
The court has requested that the girl, now 21, not be identified.
Jeffs, head of the 7,500-strong Fundamentalist Church of Jesus Christ of Latter Day Saints, or FLDS, has pleaded not guilty to two felony charges of being an accomplice to rape.
Each charge carries a potential sentence of between five years and life in prison. No charges against the accuser's husband have been filed.
The case has galvanized the attention of this small city of golf courses and retirees, and pushed the issue of polygamy into the spotlight -- a practice the early Mormon church once embraced but rejected in 1890.
Jeffs, a tall, gaunt man who was brought to court by helicopter on Thursday wearing a bullet proof vest, sat calmly during the proceedings in a dark suit and tie.
But re-entering the courtroom after a short break, he broke into a wide smile as a group of about 12, mostly male, members of the FLDS stood as a symbol of respect for their leader.
"CELESTIAL KINGDOM"
Jeff's accuser wore a pinstriped black suit and carried herself confidently during opening questions by prosecutors that will continue on Friday.
"He has always been an authority figure in my life," she said of Jeffs, who was once also her grade-school teacher.
Talking about growing up in the FLDS, the accuser said that when she moved to the community of Hildale, Utah, in 1999 after her biological father was exiled from the church, she lived in the home of her mother's new husband -- with some 15 other wives and about 30 other children.
She explained how she had never been given sex education, but had learned through Jeff's teachings to always do what her husband directed "with a 'keep-sweet' attitude."