UNITED NATIONS - Iranian President Mahmoud Ahmadinejad said on Tuesday the issue of his country's nuclear ambitions was "closed" and a matter to be handled by the UN watchdog, the International Atomic Energy Agency.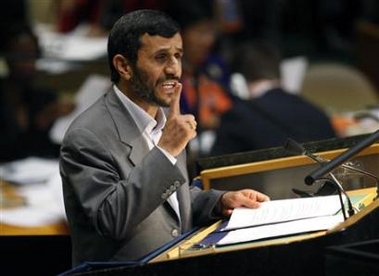 Iran's President Mahmoud Ahmadinejad addresses the 62nd United Nations General Assembly at the UN headquarters in New York, September 25, 2007. [Reuters]
"All our nuclear activities have been completely peaceful and transparent," he told the UN General Assembly, accusing Western powers of trying to deprive Iran of its right to nuclear energy.
He said that despite military threats and "illegal" sanctions, "Iran has moved forward step by step and now our country is recognized as a one with the capacity for industrial-scale fuel cycle production for peaceful purposes."
Iran agreed with the IAEA on August 21 to explain the scope of its nuclear program, which Tehran insists aims at mastering technology to generate atomic power although Western nations believe it is a covert bomb program.
The pact allows Iran to settle questions one by one over a timeline the IAEA says would run to December -- even as it adds centrifuges to its Natanz enrichment plant, nearing the 3,000 needed to start producing usable quantities of nuclear fuel.
Western powers have cast doubt on the deal, saying it allows Tehran to string out answers to questions about past, hidden nuclear work while leaving intact its uranium-enrichment program, a possible path to atom bombs.
US Secretary of State Condoleezza Rice said Ahmadinejad had in the past made "exaggerated claims" about how far Iran had progressed in enriching and reprocessing nuclear fuel.
Ahmadinejad said on Tuesday Western powers had insisted on politicizing the Iranian nuclear issue.
"But today, because of the resistance of the Iranian nation, the issue is back to the agency (IAEA), and I officially announce that in our opinion the nuclear issue of Iran is now closed and has turned into an ordinary agency matter."
"Of course Iran has always been and will be prepared to have constructive talks with all parties," he added.
The United Nations has demanded Iran halt its enrichment program, and has slapped two rounds of sanctions on Tehran for refusing. The United States is pressing for a third round.