Art of relaxation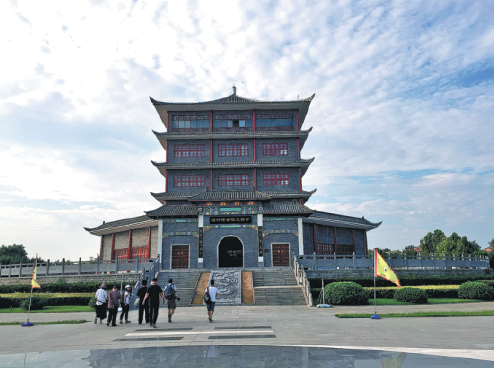 The tai chi museum with stunning stone sculptures, tai chi's history and theory, as well as tai chi master's life stories opened to the pubic in 2009. [Photo by Yang Feiyue/China Daily]
Besides teaching tai chi, many have seen their income increases by offering catering and accommodation and selling tai chi costumes.
Zhu says that the village's prosperity is mainly due to government efforts.
The Wenxian government began to tap into the significance of Chenjiagou back in 2004 when stone-paved roads were built and a grand stone gate was erected.
The county then invested 33 million yuan ($5 million) remodeling an ancestor hall for tai chi masters.
Now, well-manicured trees line the courtyard leading to the hall, with buildings on three sides. A sculpture of Chen tai chi founder Chen Wangting stands tall in the front and tablets commemorating other styles of tai chi are on the sides.
To date, the hall has seen more than 1.1 million visits by tai chi enthusiasts from home and abroad.
A tai chi museum covering an area of 2,800 square meters opened to the public in 2009.
The museum sits in a grand plaza with stone sculptures showcasing tai chi moves.
Visitors can access tai chi history and theory, as well as tai chi master's life stories in the museum.
As we walk around the village, we see a lot of construction in progress. A water diversion canal, toilets and lighting are coming down the pike.
Yuan Shuai, a local government official, says: "We plan to build Chenjiagou into a world-class place for tai chi."
As part of the grand plan, a tai chi town will receive 60 million yuan in investment. Also, many national tai chi events, including competitions and seminars are being staged in the village.
With these changes, Zhu says more visitors will come to sample tai chi in future.
"Unlike physically demanding sports, tai chi is suitable for people of all ages," he says.
Speaking about the benefits of tai chi, Zhu says that it has helped him to find inner peace.
"The key to practicing tai chi is to find a balance of movements and the mind," says Zhu.
"You get an insight into Chinese culture which really calms the mind and frees you from earthly worries," he says.
Contact the writer at yangfeiyue@chinadaily.com.cn