Luxury air travel set to scale new heights with Hong Kong flight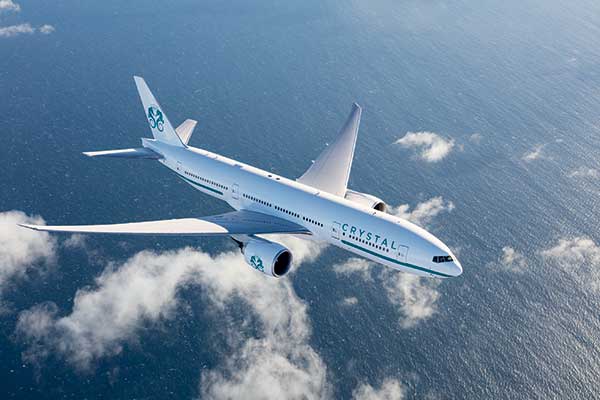 Crystal Skye [Photo provided to China Daily]
Crystal Skye, a luxury Boeing 777, will leave Hong Kong on Sept 30 for maiden eight-day cruise to Kenya and then Tahiti.
Only 86 Chinese passengers will take the trip and be waited on by butlers and served Michelin-star quality food.
The plane can hold up to 450 people.
Each of the first batch of travelers will pay about $45,000 for the experience including hotels, food, beverages and entertainment.
In Kenya, the guests will stay at the Villa Rosa Kempinski in Nairobi, where former US president Barack Obama stayed on a visit in 2015, and go on safari in the Masai Mara national reserve. Then the group will go to Tahiti in French Polynesia.
Kenya and Tahiti are among the countries now targeting Chinese tourists — the world's largest outbound tourism market.
The private jet tour operated by a Hong Kong airliner, Genting, is targeted specifically at China's wealthy who are vying for new travel experiences.
The plan for the inaugural flight during China's National Day Golden Week Holiday is to appeal to families to enjoy this extended holiday period together.
Kent Zhu, the president of Genting Cruise Lines says: "In China, there are a number of wealthy groups with private aircraft, but a perfect trip comes from professional planning."
After its maiden flight, Crystal Skye will provide charter flights for customized global travel. The aircraft can fly non-stop for 19 hours.