Flocking to flowers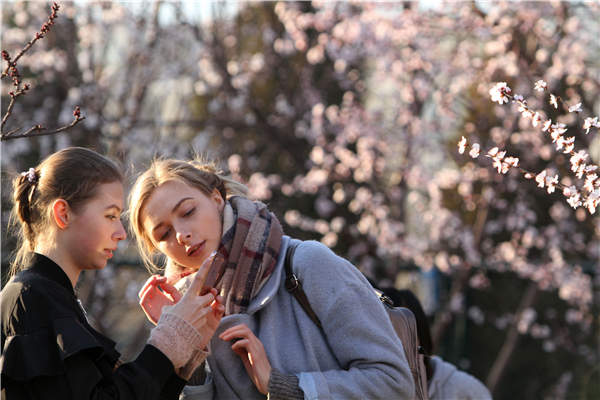 A growing number of people visit Beijing's parks to enjoy the colorful blossoms of mountain peaches, apricots and cherries.
Early warm temperatures caused the first trees to bloom on March 12, the earliest since 2002.
They'll burn white, light pink, light green and dark red for about a month.
The park has trained officers to stop and even fine those who pick flowers. About 70 surveillance cameras keep watch.
The park is hosting a photography contest for those who snap its blooms until May 5. Winners will get between 100 ($14.50) and 2,000 yuan.
It stands to reason that the ancient imperial garden of the Summer Palace presents spectacular patterns of color with the pride of a peacock.
The grounds' elegant garden design earned a UNESCO World Heritage Site listing, after all.
It also hosts traditional pavilions, halls and temples, perched atop and nestled among hills and ponds.
Kunming Lake is wreathed with mountain peaches and Yulan magnolias. Other flowers like peonies will bloom soon.
Indeed, popping petals will continue to color Beijing's allure in the coming weeks.