Germany promotes Martin Luther celebrations for tourists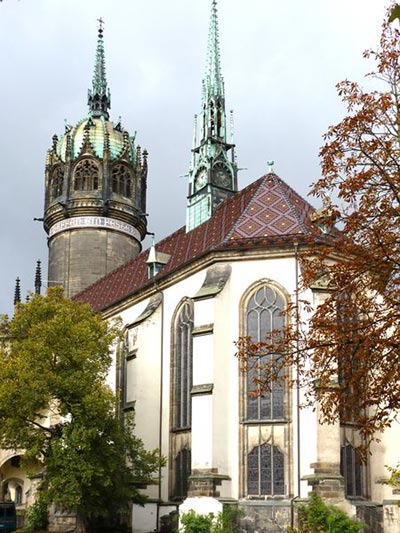 Castle Church Lutherstadt Wittenberg [Photo provided to China Daily]
The German National Tourist Board hopes to excite Chinese tourists about a major date in history this year — the 500th anniversary of the Protestant Reformation initiated by Martin Luther.
Germany will hold various festivities and special exhibitions that are related to Luther and the reformation. For example, the German Historical Museum in Berlin hosts the exhibit The Luther Effect: 500 Years of the Reformation from May 4 to Nov 5.
Visitors can choose from eight Luther Trails that link 42 places where the great reformer lived and worked, such as Leipzig and Dresden. It's convenient to take public transportation to follow the trails.
Li Zhaohui, head of the tourist board's Beijing office, says tourists can enjoy the country's cultural heritage, splendid natural views, delicious food, and wine and beers. Road trips and shopping are also great experiences for visitors.
Overnight stays of overseas tourists in Germany totaled more than 75.2 million from January to November in 2016, up by 1.4 percent for the same period in 2015, according to travel-industry data. That figure includes more than 2.58 million Chinese tourists, up 1.6 percent compared with 2015.
In 2016, the German embassy in China issued about 420,000 Schengen visas, up by 7 percent compared with 2015.
Last year, Germany opened 10 application visa centers in China, boosting the total number of visa centers to 15. The visa centers in Beijing, Shanghai and Guangzhou are also open on Saturdays for the convenience of applicants.
Related:
South African Tourism makes big push to lure Chinese visitors