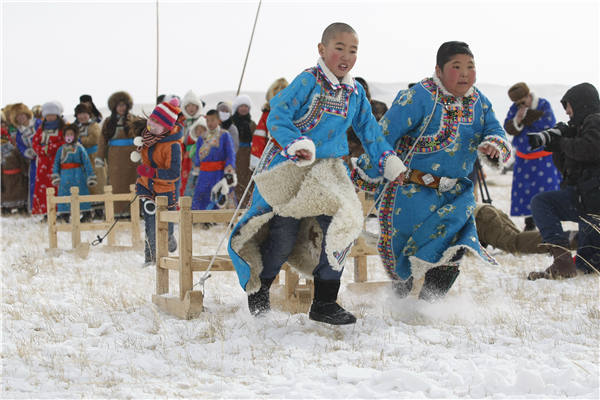 [Photo by Ma Jianquan/For China Daily]
Hot routes for cold months
Hulun Buir: Hailar-Huhenor-Manzhouli-Argun-Genhe
Hailar's museums introduce Hulun Buir and the War of Resistance against Japanese Aggression (1937-45). There's also hockey, skating and ice swimming.
Huhenor hosts a nadam (entertainment) fair where visitors can lasso and train horses, and wrestle-all traditional winter pastimes on the grasslands.
Manzhouli contains China's biggest frontier land port, Matryoshka Plaza, featuring Russian restaurants and art performances. China-Russia Boundary Monument No 41 offers photo ops.
Argun hosts Russian culture, folk arts and food.
Genhe's visitors can see the lifestyles of the ethnic Ewenki, who hunt and herd reindeer. They can also experience forestry workers' lives in "China's coldest village", where they get a certificate from Santa Claus proving they've endured the minuscule mercury.
Hulun Buir: Zalantun-Arun Banner-Nierji
Zalantun's visitors flock to the Jinlongshan ski resort, navigate motorcycles over the snow and play Counter Strike (a real-life version of the video game). They can thaw out in hot springs.
Arun Banner's arrivals experience traditional Korean life through museums about ethnic customs and make pickles with locals.
Nierji Lake offers ice fishing. Daur Ethnic Culture Park's guests can gulp local fare and booze, while watching folk dances.
Xilin Gol: Xilinhot-Xi Ujimqin Banner
Locals wear special garb to dance in traditional sacrificial ceremonies in Xilinhot. Its Mongolia Culture Development Center gives culture context. So does the area's unique mutton hotpot.
Xi Ujimqin Banner hosts horse races and archery, plus chances to dance in herds of camels, horses or sheep. (Party animals, indeed!)
It also hosts an international cross-country skiing competition and sells local goods on Ujimqin Street.
Xilin Gol: Erenhot-Sonid Right Banner
January camel celebrations will feature a pageant, wrestling and exhibitions of artifacts, calligraphy and photography.
Erenhot hosts the Cretaceous Dinosaur Museum.