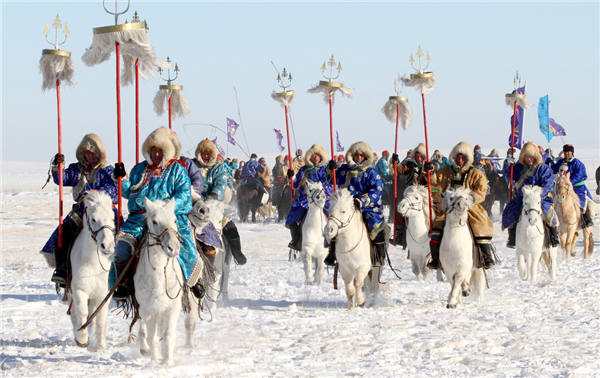 [Photo by Ma Jianquan/For China Daily]
"Most of our guests are from the coast, especially places where you can't see snow," Liu says.
"They draw in the snow, snap photos, and ride camels and bikes through deserts."
They explore forests, prairies and deserts while experiencing ethnic culture, he says.
Photographers are drawn to the rime-encrusted Greater Hinggan Mountains, grasslands and primitive forests billowing with white, Xilin Gol League International Travel Agency general manager Bao Longliang says.
The league's monthlong Ice-Snow Carnival starting at the end of December has attracted skiers for years.
Between 150 and 300 Northern Europeans participate annually, Bao says.
Visitors can brew tea in a Mongolian yurt in temperatures that drop to-53 C.
Such excursions are for adventurous types who are more frost-smitten than frostbitten.
That said, Inner Mongolia remains frozen seven months a year. Snow usually subjugates the landscape in October and relinquishes it to pink azaleas in May. That ushers in a different season of local life and experiences for visitors.
Contact the writers through yangfeiyue@chinadaily.com.cn
Erik Nilsson contributed to this story